Strong Blocking Keeps Next 2 Storms South Dry Cold Weather Ahead

Weather in 5/Joe & Joe Weather Show Latest Podcast
Strong Blocking Keeps Next 2 Storms South Dry Cold Weather Ahead
Snow lovers take note. Be careful what you wish for because you may just get it. In this case it the endless cry for blocking blocking blocking. This is where the upper pattern bottlenecks in the Atlantic which favors colder air in the East and a southern storm track to put us in line for snow. Well guess what? Now you have so much blocking that it will risk taking storm tracks so far south that we will basically be cold and dry. Meanwhile snow odds will increase for the Southern Mid Atlantic and even parts of the interior Southeast US!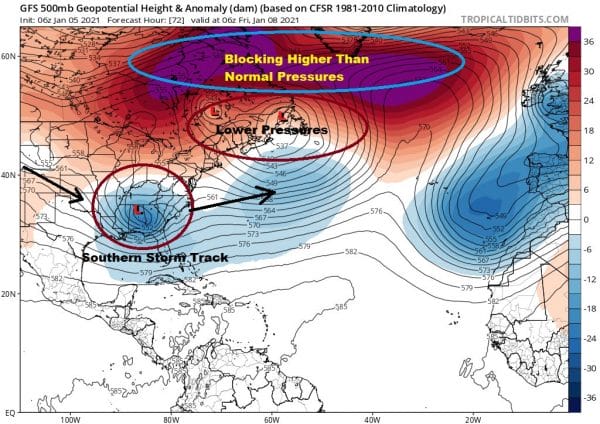 Given this set up, it leaves the are from Eastern Pennsylvania to New Jersey to Southern New England and Long Island in the quiet zone with not much to worry about day to day. Sunday's storm is out to the east and has strengthened. It sits south of Nova Scotia and east of New England. It is not moving thanks to the block and it will actually hook back westward today into Wednesday. Clouds are around on the satellite picture but we will have some sunshine. today. Highs will be in the upper 30s and lower 40s. There are no issues on the radar today and right through Thursday, possibly even through the weekend.
SATELLITE

Skies should be partially clear tonight with lows in the mid 20s to lower 30s. Wednesday the wind will pick up with the low offshore and high pressure to the north. Highs will be in the upper 30s to around 40 with sunshine and passing clouds. Lows Wednesday night will be in the 20s.
Thursday sees a cold sunny day with some high clouds late in in the day. Highs will be in the 30s. The first in a series of storms moves across the Gulf States and exits to the east well to our south Friday into early Saturday. This will leave us in some sunshine and chilly conditions with highs mostly in the 30s by day and 20s by night. This should carry us through the weekend. Then another storm will take the southern route early next week. How far north it gets will depend on the block. If it relaxes enough, that low will come further north. If the block remains strong we could be setting up for a significant snowfall for the Southern Mid Atlantic  states.
MANY THANKS TO TROPICAL TIDBITS FOR THE USE OF MAPS
Please note that with regards to any severe weather,  tropical storms, or hurricanes, should a storm be threatening, please consult your local National Weather Service office or your local government officials about what action you should be taking to protect life and property.