Stormy Weather Pattern Developing Ahead
Stormy Weather Pattern Developing Ahead
With the holiday weekend almost done it is time we look ahead in the long range. The flip to a warmer pattern has taken hold and will continue throughout this week with above average temperatures. We could see another day of temperatures well into the 60s which will be on Thursday. Then afterwards we look to go into a very active weather pattern with several storms that will be coming in across the Pacific and heading across the country. I was my original contention that there is still time and and opportunity for one or two more snow events in the northeast and while they do appear to be long shots, the possibility is still there.
Stormy Weather Pattern Saturday February 25, 2017
Even though the overall weather pattern favors stormy and colder in the west there is a difference this time around in that the East Pacific Oscillation is going to  be in a negative state. This tends to favor a colder look across the United States including the East. The off the wall negative Pacific North America Pattern index (PNA) will be extremely negative. A positive PNA is usually cold and and stormy in the east so the extreme negative readings would suggest it being cold and stormy in the west and that the cold air would extend pretty far south to California. It is an odd combination we are seeing here. There is no blocking to speak of in the Atlantic so that makes cold air transient in nature. So we will watch several storms move across. Weather models are showing one for early next week where the GFS has a well developed low moving into the Ohio Valley while the European has a colder though much weaker look.
STORMY WEATHER TUESDAY FEBRUARY 28, 2017
There are 2 others that follow this one that cut to the Great Lakes in some form or another. Throughout the winter the snow events have sneaked up on us inside the 7 day period and I would suspect that if we see any, they will show up in the short range. Right now it is a watch and wait situation. In the meantime this Thursday looks to be another warm day with temperatures reaching the upper 60s to mid 70s!
THURSDAY FORECAST HIGH TEMPERATURES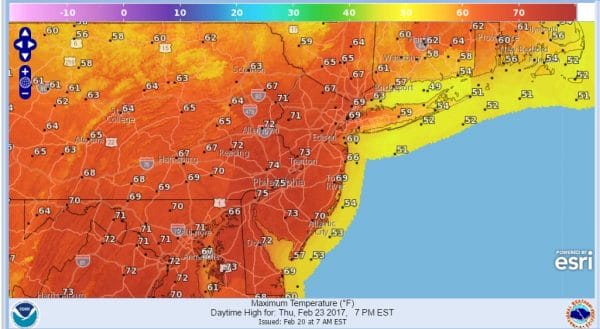 Except for a few passing showers late Tuesday into Tuesday night, the weather looks dry for the entire work week. The first widespread shower threat will come Saturday.
MANY THANKS TO TROPICAL TIDBITS FOR THE WONDERFUL USE OF THE MAPS
GET JOE A CIGAR IF YOU LIKE!
SNOW REMOVAL COMPANIES FOR YOUR WINTER NEEDS
             LONG ISLAND                                ROCKLAND COUNTY                   Connecticut
     ROCKLAND COUNTY                         TRI STATE SNOW REMOVAL                           JOHNSTOWN PA
FiOS1 News Weather Forecast For Long Island
FiOS1 News Weather Forecast For New Jersey
FiOS1 News Weather Forecast For Hudson Valley
NATIONAL WEATHER SERVICE SNOW FORECASTS
LATEST JOESTRADAMUS ON THE LONG RANGE
Weather App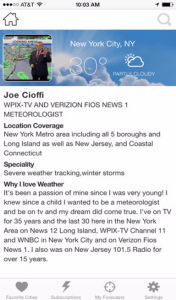 Don't be without Meteorologist Joe Cioffi's weather app. It is really a meteorologist app because you get my forecasts and my analysis and not some automated computer generated forecast based on the GFS model. This is why your app forecast changes every 6 hours. It is model driven with no human input at all. It gives you an icon, a temperature and no insight whatsoever.
It is a complete weather app to suit your forecast needs. All the weather information you need is right on your phone. Android or I-phone, use it to keep track of all the latest weather information and forecasts. This weather app is also free of advertising so you don't have to worry about security issues with your device. An accurate forecast and no worries that your device is being compromised.
Use it in conjunction with my website and my facebook and twitter and you have complete weather coverage of all the latest weather and the long range outlook. The website has been redone and upgraded. Its easy to use and everything is archived so you can see how well Joe does or doesn't do when it comes to forecasts and outlooks.
Just click on the google play button or the apple store button on the sidebar for my app which is on My Weather Concierge. Download the app for free. Subscribe to my forecasts on an ad free environment for just 99 cents a month.
Get my forecasts in the palm of your hand for less than the cost of a cup of Joe!