Stormy Christmas Eve High Wind Warning
Flash Flood Watch Thunderstorms Overnight Into Christmas Day

Weather in 5/Joe & Joe Weather Show Latest Podcast
Stormy Christmas Eve High Wind Warning
Flash Flood Watch Thunderstorms Overnight Into Christmas Day
Christmas Eve is here and the good news is that if you have things to do and you are east of the New Jersey/Pennsylvania state line, you have the entire day to get done whatever you need to get done without weather getting in the way. Wind, rain, and thunderstorms will not really be in play until tonight.
We will actually see some sunshine in places this morning before clouds completely take over. This storm system and cold front is oriented in a north/south position rather than east/west which buys us time today. Weather conditions will start to deteriorate later this afternoon and evening as clouds thicken and winds begin to increase. High Wind Warnings are up for the coastal counties of New Jersey to NYC, Lower Westchester, Long Island and most of Southern and Central New England. Wind Advisories are up for inland areas. Flash Flood Watch covers inland areas of the Eastern Half of Pennsylvania, Northwest New Jersey, the Catskills, Hudson Valley north of Route 84 and Northwest Connecticut northward,
SATELLITE

Our interactive zoom radar shows the showers and heavy rain to the west but if you use the interactive tools and hit the loop button, you will see that the motion is more north and east at least for now. Temperatures have already risen to the 50s along coastal areas and others will catch up as the day wears on.
Tonight the bottom falls out with increasing winds, rain, and thunderstorms. Winds will gust to 60 mph or more along the coast and 40 to 50 mph inland. Rain will come in waves, heavy at times, capped off by a squall line of thunderstorms that will pass in the early morning hours Christmas Day.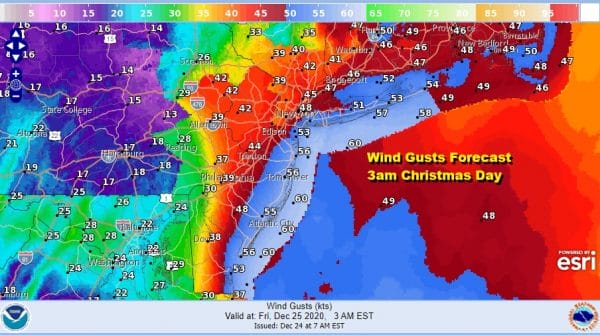 As far as rainfall and flooding is concern, the area of biggest concern is where we saw a foot or more of snow in last week's snowstorm and those areas in Northeast Pennsylvania to Central New England that saw 20 to 40 inches of snow are are getting 2 to 3 inches of rain or more could see extensive serious flooding.
The fact that the front takes longer to get here means it also takes longer to leave so we will see rain continuing Friday morning and weather models don't show the rain exiting the region until Friday afternoon. Temperatures will reach the 60s in many areas late today and tonight as temperatures rise everywhere and then fall once the front passes. We will settle in the 30s later Friday afternoon.
The weekend continues to look good. Sunshine will be with us Saturday and Sunday. It will be cold with highs only in the upper 20s and lower 30s Saturday and low to mid 30s Sunday. Saturday and Sunday morning lows will be in the teens to low 20s.
Monday brings the next system and it is a cold front that doesn't have much with it other than a couple of scattered showers. Highs will be in the 40s. Then we look ahead to dry weather for Tuesday into Thursday before we deal with the next low coming out of the Plains.
MANY THANKS TO TROPICAL TIDBITS FOR THE USE OF MAPS
Please note that with regards to any severe weather,  tropical storms, or hurricanes, should a storm be threatening, please consult your local National Weather Service office or your local government officials about what action you should be taking to protect life and property.