Storm Threat Later Next Week?
Storm Threat Later Next Week?
Weather chatter has been increasing surrounding the possibility of another major storm to impact the Middle Atlantic and Northeast for the middle of next week. Usually I don't like to look ahead to a storm if there are impending events before it and such is the case with Sunday. That system actually does hold one of the keys to whether the midweek storm becomes a reality or not.
EUROPEAN MODEL ON STORM THREAT NEXT WEDNESDAY THURSDAY
Sunday's low becomes a major storm on all the models. All the models take this system out to 50N or 50W or as it is called in the weather world a 50-50 low. That low is key because in the blocking pattern that is setting up it forces any energy to the west to dig down and around it since it is blocked from moving to the east. This is how we have seen some of those classic big storms of the past. The models diverge from here on this key point.
GFS UPPER AIR FORECAST FOR MONDAY-THURSDAY CLICK TO ANIMATE
EUROPEAN MODEL TUESDAY THROUGH FRIDAY CLICK TO ANIMATE
Click on the images to animate and you will see what the GFS does verses the European. On the GFS rather than dig around the the 50-50 low the diving energy winds up getting absorbed and stretched while in the European that energy digs right down..picks up the southern stream system and BOOM you have a big storm along the east coast!
EUROPEAN MODEL FORECAST FOR THURSDAY MORNING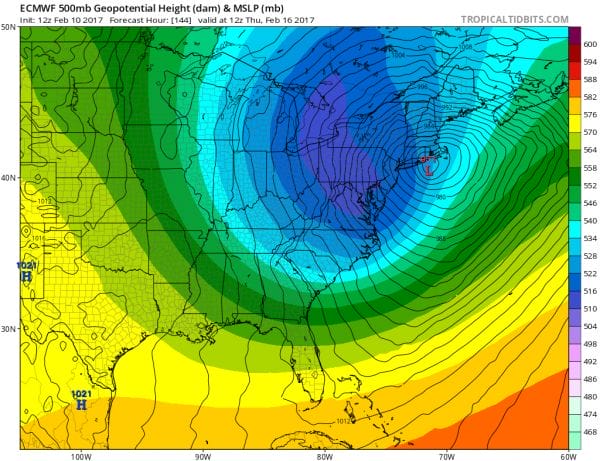 Needless to say that the European resolves this with a major east coast storm. The GFS doesn't anything of consequence because it destroys the diving energy in the north.
GFS MODEL FORECAST  FOR THURSDAY MORNING
We have nothing of consequence on the GFS except that weak wave off the southeast US coast which goes out. So the question about all of this will hinge on that Sunday storm and the 50-50 low. The European has been growing more bullish over the last 3 days. The GFS remains firm on its solution. The next model run could be key on which model has the better idea on the middle of next week.
MANY THANKS TO TROPICAL TIDBITS FOR THE WONDERFUL USE OF THE MAPS
GET JOE A CIGAR IF YOU LIKE!
SNOW REMOVAL COMPANIES FOR YOUR WINTER NEEDS
             LONG ISLAND                                ROCKLAND COUNTY                   Connecticut
     ROCKLAND COUNTY                         TRI STATE SNOW REMOVAL                           JOHNSTOWN PA
FiOS1 News Weather Forecast For Long Island
FiOS1 News Weather Forecast For New Jersey
FiOS1 News Weather Forecast For Hudson Valley
NATIONAL WEATHER SERVICE SNOW FORECASTS
LATEST JOESTRADAMUS ON THE LONG RANGE
Weather App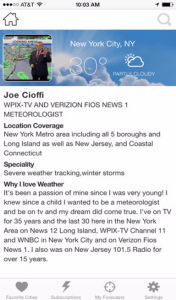 Don't be without Meteorologist Joe Cioffi's weather app. It is really a meteorologist app because you get my forecasts and my analysis and not some automated computer generated forecast based on the GFS model. This is why your app forecast changes every 6 hours. It is model driven with no human input at all. It gives you an icon, a temperature and no insight whatsoever.
It is a complete weather app to suit your forecast needs. All the weather information you need is right on your phone. Android or I-phone, use it to keep track of all the latest weather information and forecasts. This weather app is also free of advertising so you don't have to worry about security issues with your device. An accurate forecast and no worries that your device is being compromised.
Use it in conjunction with my website and my facebook and twitter and you have complete weather coverage of all the latest weather and the long range outlook. The website has been redone and upgraded. Its easy to use and everything is archived so you can see how well Joe does or doesn't do when it comes to forecasts and outlooks.
Just click on the google play button or the apple store button on the sidebar for my app which is on My Weather Concierge. Download the app for free. Subscribe to my forecasts on an ad free environment for just 99 cents a month.
Get my forecasts in the palm of your hand for less than the cost of a cup of Joe!