Storm Sitting Over Southeast Massachusetts Weekend Sees Improvement

Weather in 5/Joe & Joe Weather Show Latest Podcast
Storm Sitting Over Southeast Massachusetts Weekend Sees Improvement
Yesterday's storm system is sitting stationary over Southeastern Massachusetts and that has much of our area from Eastern Pennsylvania to Southern New England in clouds. There are some break slivers showing up here and there. There are also some scattered showers around on the local radars. In Southeastern New England we area seeing a cold rain and some wet snow occurring. Temperatures are in the 40s and they will probably hold in the upper 40s to lower 50s this afternoon.
SATELLITE

Skies should partially clear tonight. It will be a chilly night with lows in the upper 30s and lower 40s. Saturday weak high pressure builds in behind the storm to the northeast. That low is going to take its time moving eastward. This likely leaves us in some clouds but there will be some sunshine so we will call it partly sunny for Saturday. Highs will be in the 50s to near 60 in the warmest spots. Sunday we will continue to be under the influence of the offshore low and a weak upper trough moving through. Sunday will feature clouds and some sun. There is the risk for a passing isolated shower. Highs Sunday will be in the upper 50s and lower 60s.
Next week brings us a different pattern where everything is moving along at a regular pace. The block is gone and the upper pattern that replaces is one that in the winter would be very cold indeed for the Eastern US. Seeing this pattern in the spring certainly means a stretch of below average temperatures.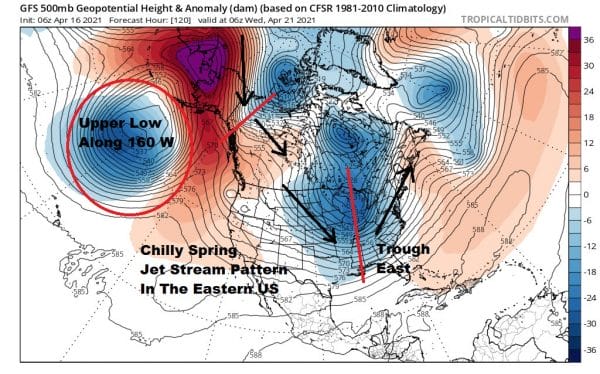 The overall pattern suggests that much of the rest of the month will be on the chilly side. That doesn't mean we can't have the odd warm day but overall it will be cooler than average. The next front of any consequence will approach on Wednesday with the chance for showers which means Monday and Tuesday will be dry.
We should see some sunshine and clouds Monday and Tuesday. Highs Monday will be into the 60s and Tuesday could see highs in the upper 60s and lower 70s before the next cold front passes Wednesday with showers and then the rest of the week will be chilly but dry.
MANY THANKS TO TROPICAL TIDBITS FOR THE USE OF MAPS
Please note that with regards to any severe weather,  tropical storms, or hurricanes, should a storm be threatening, please consult your local National Weather Service office or your local government officials about what action you should be taking to protect life and property.