Storm Signals Still Abound Amidst Confusion
Storm signals on the models continue to flash and so does the confusion on how all this is going to ultimately evolve. There are many solutions and many possibilities on the table. Remember that we are not at the day where models hit the target 7 days or more out nor will we be anytime soon. The problem in this evolving pattern is that you have the large scale pattern realigning itself and at the same time you have all sorts of energy running around all over the place. This is making models even more confusing to figure out. Just to illustrate I posted up the three major models a week from today. All three have their own ways of doing things. Each one has the profile in Canada slightly different from the other. The Canadian as a vortex in South Central Canada to the right of the other two. The GFS has the vortex left and stronger. The European has it left and weaker than the gfs but stronger than the Canadian.
Each model also handles southern stream energy differently. The result is a mush of solutions going in all sorts of directions. Frankly it has been my experience that when models do this, trying to figure them out becomes a frustrating hair pulling experience. Needless to say that if the models were to print snowstorms at this point they should be ignored. However we need to recognize that whenever you have lots of energy like this running around, there is potential for something important to happen somewhere. Where that somewhere is remains a question at this point as it should be. Asking for forecast certainty at this point is ridiculous. Key questions will be cold air and whether it will be more important than models show. The Canadian today offers the coldest solution of all the operational models with two events, One Saturday January 9th and one on January 11-12. It is the furthest southeast of all the models on this run. 
There are some clues that might tell us where this may go. I have stated in previous posts that the state of the NAO may be key to all of this. The NAO is forecast to go negative on January 8th and get increasingly negative into the second week of January.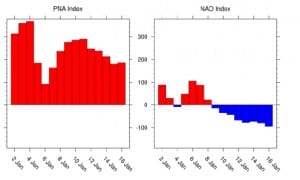 Will the NAO be negative enough to begin to shift models further south and colder? That is a huge question. The state of the North Atlantic Oscillation was something that the GFS model a few days ago was screaming strongly negative showing storm tracks way south. Since then it has backed off. But is the going to be right about the N.A.O to begin with? Is the Canadian model keying on this? Is the European suggesting that the NAO may take longer to get the NAO to a negative state? Where and how is all the energy going to line up as we get closer to all this? Some ensemble model members went nuts with the second system while others much less so. My suggestion is if you look at the operational models at this point to refrain from taking each run literally beyond day 5 otherwise it becomes an exercise requiring a good stiff drink (not that there is anything wrong with that!).
We should point out that the ensembles today continue to flash storm signals. We are a day closer but we still have no clarity on the long range..which if you think about it…is how it is supposed to be.
Last nights GFS Video Analysis
NATIONAL WEATHER SERVICE SNOW FORECASTS
LATEST JOESTRADAMUS ON THE LONG RANGE
Weather App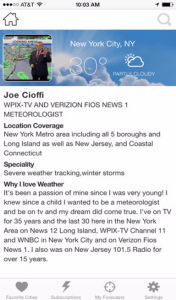 Winter is coming. Don't be without Meteorologist Joe Cioffi's weather app. It is a complete weather app to suit your forecast needs. All the weather information you need is right on your phone. Android or I-phone, use it to keep track of all the latest weather information and forecasts. This weather app is also free of advertising so you don't have to worry about security issues with your device. An accurate forecast and no worries that your device is being compromised.
Use it in conjunction with my website and my facebook and twitterand you have complete weather coverage of all the latest weather and the long range outlook. The website has been redone and upgraded. Its easy to use and everything is archived so you can see how well Joe does or doesn't do when it comes to forecasts and outlooks.
Just click on the google play button or the apple store button on the sidebar for my app which is onMy Weather Concierge. Download the app for free. Subscribe to my forecasts on an ad free environment for just 99 cents a month.
Get my forecasts in the palm of your hand for less than the cost of a cup of Joe!