DOWNLOAD MY NEW FREE JOESTRADAMUS WEATHER APP FOR ALL DEVICES
THE APP IS ABSOLUTELY FREE TO ALL BUT CONSIDERING SUBSCRIBING TO PATREON FOR A WEATHER EXPERIENCE FREE OF ADS, EXCLUSIVE VIDEOS FOR MEMBERS ONLY AND MUCH MORE…STARTS AT $2 A MONTH..MESSAGE ME AT ANY TIME
Storm Patterns Rhyme Trend Is Your Friend
Every winter or for that matter every season, a pattern sets up in how weather systems behave and move along which makes sense as the longer term weather patterns in the atmosphere tend to lock into position for long periods of time. It sometimes takes a while to figure that pattern out but clearly as we enter the last 2 weeks of meteorological winter and the last 5 weeks of astronomical winter, the pattern is clear. We have a Pacific jet stream and Atlantic jet stream pattern that are simply not favorable for east coast coastal snow storms and there is nothing in the long range pattern that suggests otherwise nor is there anything that suggests a change in that pattern is coming anytime in the next couple of weeks.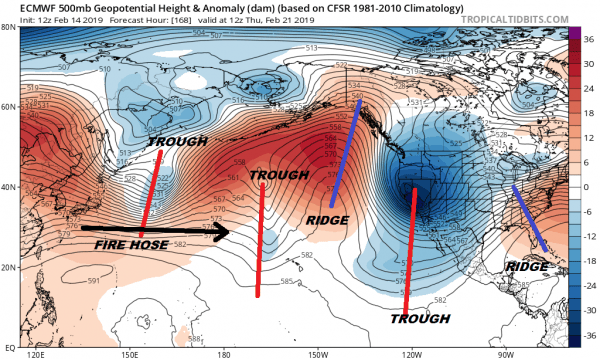 The map above of the Pacific jet stream pattern a week from now and the map below of the Atlantic Jet stream pattern a week from now pretty much says it all here. It is not favorable on either side. The Pacific shows the trough in the west and there is nothing out there that will change it. On the Atlantic side we have a deep upper low in the North Central Atlantic and that's it with corresponding ridges on either side.
All that said there are occasional windows of opportunity and they have all recently come out the same way. They seem to come out with one or two lead weak systems and then the stronger system comes out behind them. It will play out again over the next 7 days. First comes a weak system that passes to the south on Saturday. Another weak system moves through on Monday. Neither one should have any snow impact here.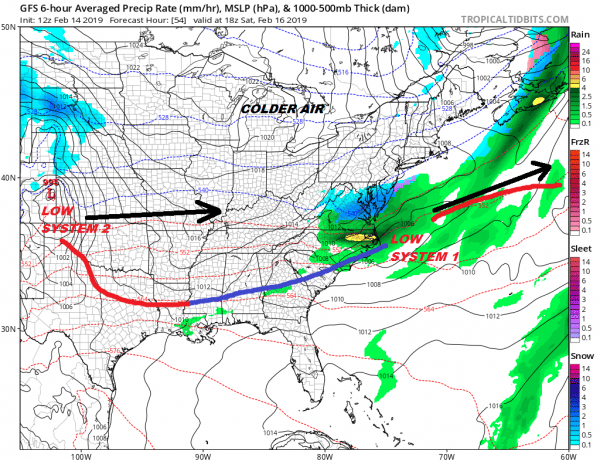 The first one Saturday brings some snow/mix across Virginia and the northern fringe touches Southern New Jersey for a few hours. For the vast majority of the area we will see nothing but some high clouds on Saturday. System two bursts on the scene on the far center left but this too looks to be weak as it moves eastward. This one might spit out some light precipitation here on Monday but the support aloft is very weak at best.
Then comes system number 3 which in many ways evolves much like the storm system did two days ago and I would not be shocked to see a similar outcome of snow to sleet to freezing rain/rain again for next Wednesday. You can expect models to do the same thing it did last week. The useless parallel GFS will show a low of the coast and a mostly snow event. The regular GFS and European will move chess pieces around. In the end I think it will be much the same thing. We will probably see a primary low go west of the Appalachians with a weak secondary and some trapped cold air.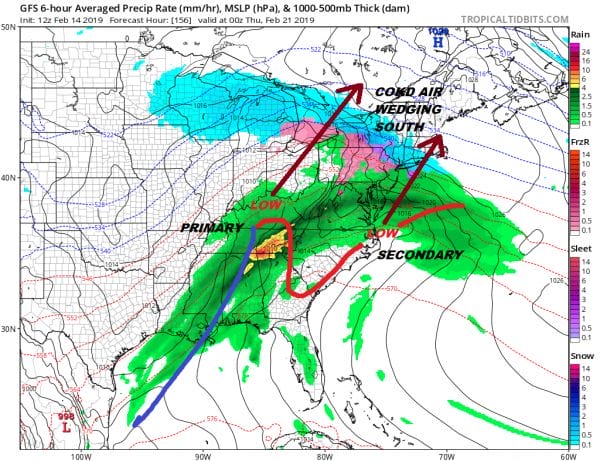 We are days away of getting into the details with this so in the meantime it is quiet. We will warm up into the 50S Friday with the chance for passing showers mainly in the afternoon into the evening and then weather conditions improve afterwards.
MANY THANKS TO

TROPICAL TIDBITS

FOR THE USE OF MAPS
Please note that with regards to any tropical storms or hurricanes, should a storm be threatening, please consult your local National Weather Service office or your local government officials about what action you should be taking to protect life and property.