Storm Passes Offshore Tonight Monday Morning
Week Ahead Warm Record Temps Thursday

Today we are watching a storm that is developing along the North Carolina coast. Clouds from this system are pushing northward but the rain is still to the south. Echos are showing up over Southern New Jersey and Delaware with heavier rain in Virginia and North Carolina. This leaves us with a day where high clouds will increase from south to north with temperatures in the 40s.
SATELLITE

WEATHER RADAR

This storm is forecast to track northeast and pass south and east of New Jersey and Long Island. The northern extent of the rain will reach Central New Jersey and then graze the immediate coast from NYC eAST to Southern and Southeastern New England. The northern cut off will be a sharp one and just inland of the coast the rain will shut down.
Once the low passes to the east any rain will end early Monday morning, clouds will give way to sunshine as the day wears on. There is no cold air behind this storm system so that means temperatures Monday should reach the upper 40s to lower 50s.
There isn't much to worry about rain wise until Friday when a cold front will bring showers through so until then it is basically about how much sun we get day to day and how high temperatures go. Above normal temperatures continue all week. Tuesday we will see sunshine with highs in the upper 40s to lower 50s.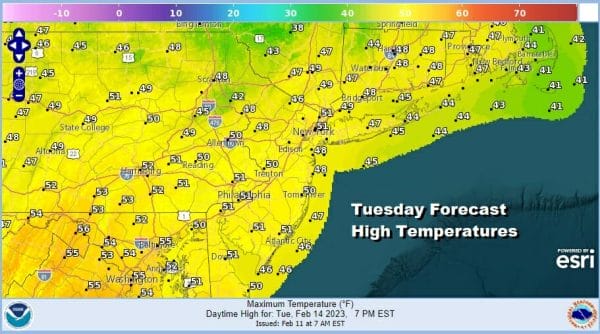 Wednesday we will see warmer air come in on a west wind. With sunshine forecast, there is nothing to stop temperatures from reaching the upper 50s and lower 60s at least just above everywhere. This is the time of year where under the right conditions, temperatures tend to outperform especially if there is a enough sunshine and Wednesday could be one of those days. Record highs are not impossible.
Thursday we will begin to wartch low pressure heading to the Great Lakes with a warm front setting up across Eastern Pennsylvania to Southern New England. This throws in the risk for some passing showers moving through Thursday though it will be a very warm day with highs in the 60s and there could be some record highs possible.
Friday brings a cold front with showers and perhaps a thunderstorm or two as the front goes by. This will be followed by gusty northwest winds and a quick shot of colder air for next weekend. Highs Friday will be in the 60s and there is the chance some records could be set before the front passes. Next week looks to be dry with a quick cold shot on Saturday and moderating temperatures Sunday. No major storms are in sight and no snow or prolonged cold is in the cards in both the short and long range.
Please note that with regards to any severe weather,  tropical storms, or hurricanes, should a storm be threatening, please consult your local National Weather Service office or your local government officials about what action you should be taking to protect life and property.