Spring Temperatures Tuesday Wednesday 70s
Spring Temperatures Tuesday Wednesday 70s
Yesterday's snow is over with and now we move along to what will be a nice Sunday with plenty of sunshine. It is already in the 30s every where so let the snow melt commence. Snow fall amounts basically ranged from a trace along the immediate coast to as much as 10 inches in some inland areas. The satellite picture this morning shows the storm is long gone to the northeast. Radars are nice and quiet. We will have a nice Sunday overall with temperatures back into the 40s. This should do a good job of getting rid of the snow cover.
US SATELLITE

REGIONAL RADAR

The weather pattern will be undergoing a huge upheaval over the next week as a very impressive looking blocking pattern sets up for late month and for March. In the process we will first see temperatures rise. A warm front approaches on Monday which will bring clouds and the chance for showers. A wind off the ocean will keep temperatures in the 40s to near 50. The showers will move through Monday night. Then on Tuesday we will have clouds giving way to breaks of sun. Temperatures should climb into the 60s and in some places could approach 70 if we can get enough sun to break through the clouds.
TUESDAY'S FORECAST HIGH TEMPERATURES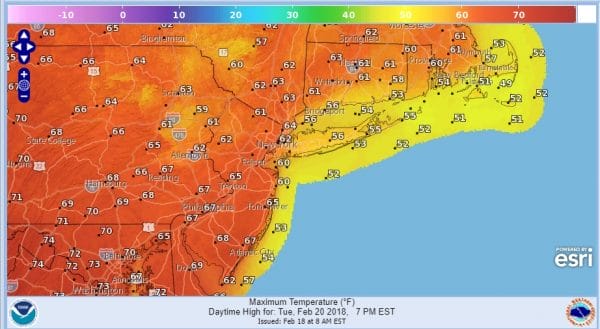 Wednesday will be even warmer in some areas with widespread 70s moving northward. The areas along the immediate coast will be subject to sea breeze issues which will hold temperatures down in those locations.
WEDNESDAY'S FORECAST HIGH TEMPERATURES
After Wednesday another cold front will come through with the chance for showers. It will turn cooler Thursday and Friday with the threat for showers both days. Longer range atmospheric blocking gets underway as we head into March. This is going to create storm a rather dynamic weather pattern in the Eastern US and it will be interesting to see whether this evolves into a very volatile early March weather pattern.

GET JOE A CIGAR IF YOU LIKE 
FiOS1 News Weather Forecast For Long Island
FiOS1 News Weather Forecast For New Jersey
FiOS1 News Weather Forecast For Hudson Valley
LATEST JOESTRADAMUS ON THE LONG RANGE