Southerly Flow Brings Showers Thunderstorms Severe Weather Risk Thursday

Weather in 5/Joe & Joe Weather Show Latest Podcast
Southerly Flow Brings Showers Thunderstorms Severe Weather Risk Thursday
High pressure is anchored offshore to the southeast and this is creating a southerly flow over the area. Meanwhile moisture from thunderstorm blow off is bringing high clouds eastward and that will be the story today as we will have clouds and some sun. The southerly flow this time of year is not exactly a warm flow but it is a moist flow and gradually we will see humidity levels creep up especially tonight. There is a chance for scattered showers or a thunderstorm well inland later today into tonight but closer to the coast no rain is forecast. Thanks to the clouds and the wind direction highs today will be in the mid to upper 70s though lower along south and east facing shoreline areas.
SATELLITE

During tonight we have a bit of a warm front moving northward and that could trigger off some showers and thunderstorms ahead of it late tonight into Thursday morning. The showers will be in clusters so some may miss out. Humidity is going up and that sets us up for a cold front and an upper trough approaching on Thursday.
Thursday doesn't look to good as we have that morning warm front inching northward and that south to southwest moist flow. At best we will see lots of clouds tomorrow and that holds temperatures down with 60s from the Hudson Valley Long Island and Southern New England. Highs will be in the mid 70s to around 80 across Southern New Jersey Eastern Pennsylvania and points southward. With dew points rising into the 60s it will be sticky and that sets up some severe weather risk.
Marginal to slight risk of severe weather is forecast but notice it does cut off along the immediate coast and to areas northeast into New England where there won't be much daytime heating. Thunderstorms will be most numerous in the early part of the day as well as Thursday evening and overnight. The front and trough are slowing down a bit.
There may be some lingering showers into Friday morning but if the front can push along to the east we should see some improvement. We will leave in the chance for another shower or thunderstorm Friday otherwise we will see clouds and some sun with highs reaching upper 70s and lower 80s.
LONG RANGE OUTLOOK
The building ridge in the Eastern US remains on course. This ridge will strengthen over the weekend and into next week and that will being a stretch of increasingly warmer and more humid conditions. Saturday we will see sunshine but the humidity will be reasonable. Highs will be in the low to mid 80s.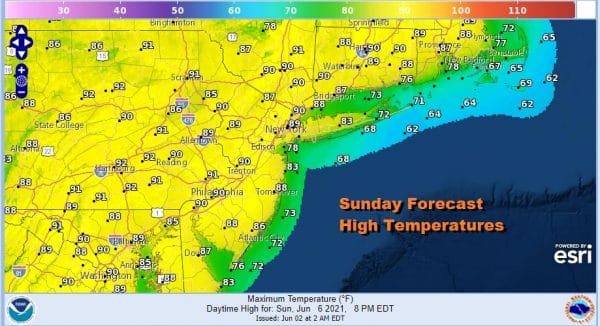 Sunday begins what we define as hot weather as highs will reach the upper 80s and lower 90s across the area with sunshine. The heat continues next week along with rising humidity and by Monday it will become truly uncomfortable. Being under a strong upper ridge means that thunderstorm development will be minimal and isolated. It may not be enough to include it in the forecast from day to day. The ridge is forecast to break down enough to allow a cold front to approach late next week and put and end to the steamy conditions.

MANY THANKS TO TROPICAL TIDBITS FOR THE USE OF MAPS
Please note that with regards to any severe weather,  tropical storms, or hurricanes, should a storm be threatening, please consult your local National Weather Service office or your local government officials about what action you should be taking to protect life and property.