Some Showers This Afternoon Severe Weather Risk Wednesday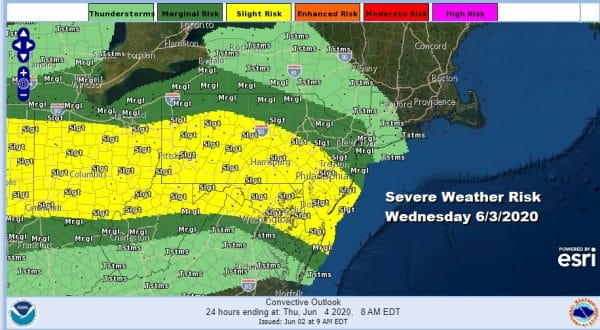 A warm front is setting up to our south and this has brought in clouds over the area today. It is on the cool side with the lack of sun and temperatures will probably struggle in the 60s for the rest of today. This warm front will eventually go by early Wednesday and that sets us up for severe weather risk. The Storm Prediction Center has pushed the severe weather risk area further north to just northeast of NYC and it has expanded the slight risk zone eastward to include most of Pennsylvania, the Southern half of New Jersey southward. Marginal risk covers Northern New Jersey to the Lower Hudson Valley to Western Connecticut.
SATELLITE

REGIONAL RADAR

Showers are showing up on the regional and local radar moving southeastward from upstate NY with some showers also over Pennsylvania and New Jersey. Nothing is especially heavy here. These showers will be moving along with breaks in between for the remainder of the day.
LOCAL RADAR NEW YORK CITY
LOCAL RADAR PHILADELPHIA

Tonight we look for clouds and some showers around until the warm front passes through. Temperatures will bottom in the upper 50s and lower 60s. That should set us up for warm and more humid conditions Wednesday with sunshine and clouds. Temperatures will reach up into the 80s. 70s will be common along the immediate coast. Then a cold front approaches and that sets off some thunderstorms during the afternoon and evening from north to south.
This front will not have a lot of support aloft so it will likely stall out and fall apart overhead Thursday leaving us at risk for some thunderstorms popping up in the afternoon and evening. Otherwise it will be warm Thursday with highs in the 80s. We will probably wash rinse and repeat for Friday with warm conditions, some sunshine, and highs in the 80s.
Saturday brings another stronger cold front with an upper trough swinging through the Northeast so we have another chance for thunderstorms and severe weather risk. This will be followed by cool high pressure and drier air for Sunday and Monday. Meanwhile in the Gulf of Mexico a tropical storm (Cristobal) is likely to develop later today and should be headed northward toward the Central Gulf Coast over the weekend. We will speak specifically to this in a separate post later today.
MANY THANKS TO TROPICAL TIDBITS FOR THE USE OF MAPS
Please note that with regards to any severe weather,  tropical storms, or hurricanes, should a storm be threatening, please consult your local National Weather Service office or your local government officials about what action you should be taking to protect life and property.