Some Rain Today Saturday But Warm Friday Highs Reaching The 70s

Some Rain Today Saturday But Warm Friday Highs Reaching The 70s

Over the years Saint Patrick's Day has seen a wide variety of weather, probably more so than any other holiday in terms of ranges in temperatures. This year it will be some rain that will be in the cards. Low pressure is moving northward up the coast and it will pass south of Long Island this evening. This puts most of the area in a quarter to as much as half an inch of rain though amounts do tail off as you head north and northwest. The satellite shows clouds moving northward and the radar shows patchy areas of rain moving northeast. Temperatures today will likely hold in the 50s.
SATELLITE

WEATHER RADAR

This low moves away tonight and we should see skies partially clear out toward morning. Most lows will be in the 40s. That is a solid launching pad for Friday. The air behind this low is not cold and we have another weather system approaching for Friday night and Saturday so it leaves us in a warm place in between. Sunshine should take highs into the 70s Friday except near the ocean where local sea breezes will keep temperatures 10 to 15 degrees lower.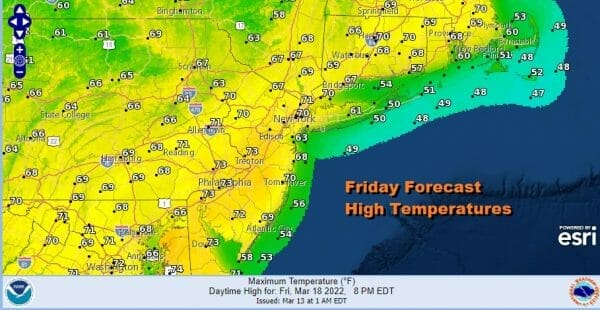 Low pressure from the Plains will head to the Great Lakes and New England Friday night and Saturday with a trailing cold front heading east. Some showers will move in later Friday night. Saturday we will see clouds around along with some showers, though I don't expect it to rain every waking moment. There will be some breaks in between. Saturday highs will be in a wide rage from 50s north and east of NYC to upper 60s and lower 70s from Philadelphia south and west.

Weather conditions will improve Sunday with some sunshine returning and highs mostly in the 50s. Next week we will be in the new spring season but there won't be much change in the overall weather scheme. Monday and Tuesday should be dry with some sunshine both days followed by a chance for a chilly rain on Wednesday ahead of the next storm system from the Middle Mississippi Valley that will be heading east.
Please note that with regards to any severe weather,  tropical storms, or hurricanes, should a storm be threatening, please consult your local National Weather Service office or your local government officials about what action you should be taking to protect life and property.