Solar Eclipse Weather Outlook Plus Warm Week Ahead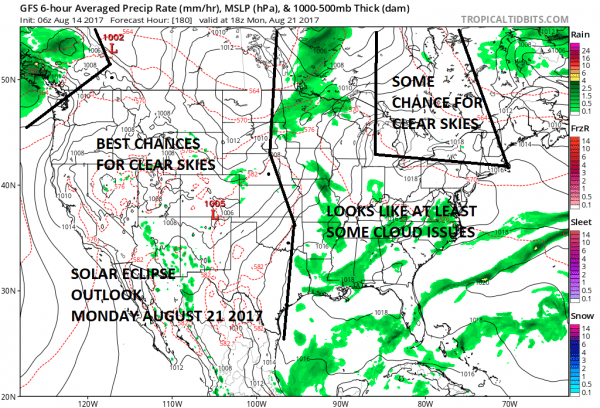 Solar Eclipse Weather Outlook Plus Warm Week Ahead
The new week begins and we have sunshine and a dry start to the weather today across the Northeast and Northern Middle Atlantic states. Given the time of year where the humidity could certainly be very high, this is not the case at the moment. Saturday's cold front remains stalled out in the ocean down to the Carolinas. You can see Tropical Storm Gert well east of Florida moving northward and Gert will pass midway between North Carolina & Bermuda over the next couple of days. We don't see anything too complicated weather wise today. Sunshine with a few passing clouds will be the story on this Monday with highs generally in the 80s.
SATELLITE LOOP

REGIONAL RADAR

LOCAL RADAR NEW YORK CITY
LOCAL RADAR PHILADELPHIA

Tuesday we have an upper air disturbance moving through which opens the door to a slight chance for a shower or thunderstorm but I think the chance is rather low. Otherwise we will be no worse than Partly Sunny with highs into the 80s. Then Wednesday sets up to be the hot day of this stretch with plenty of sunshine and temperatures that should reach the upper 80s to lower 90s. It may wind up being the one 90 degree day of the week as Thursday will bring sun and clouds and a south wind with highs in the 80s. Then it is the chance for some showers and thunderstorms coming into the mix Thursday night & Friday with the next cold front.
SOLAR ECLIPSE WEATHER OUTLOOK
The map above remains a good reference point regarding cloud cover and the best chances for clear skies based on climate statistics. The west is best away from the immediate coast while the East has a high probability of some clouds some where at any given time of the day. Remember all it takes is one cloud. to move over the sun at the wrong time and your eclipse experience is ruined. It isn't as if you can just do it again the next day. Right now it appears that cloud conditions my play out as climate conditions suggest.
SOLAR ECLIPSE WEATHER OUTLOOK PER GFS MODEL MONDAY AUGUST 21, 2017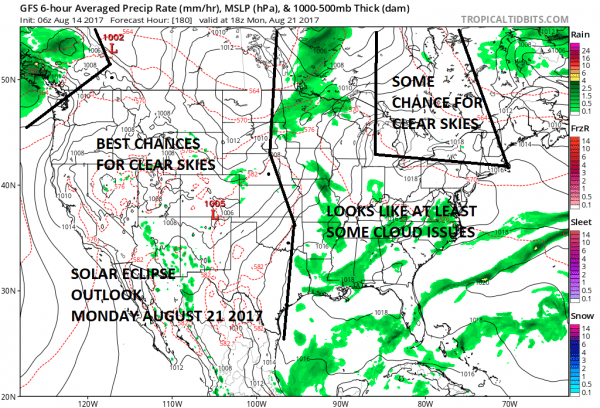 We will keep you updated on the weather outlook for the solar eclipse in the coming days.
For thoughts on what the weather will be like in New York City for the Solar Eclipse check out ANGRY BEN'S post on NYCWEATHERNOW.COM

GET JOE A CIGAR IF YOU LIKE 
FiOS1 News Weather Forecast For Long Island
FiOS1 News Weather Forecast For New Jersey
FiOS1 News Weather Forecast For Hudson Valley
LATEST JOESTRADAMUS ON THE LONG RANGE