Solar Eclipse Weather Clouds Moving Eastward
SOLAR ECLIPSE WEATHER FORECAST SATELLITE LOOP 11AM-5PM MONDAY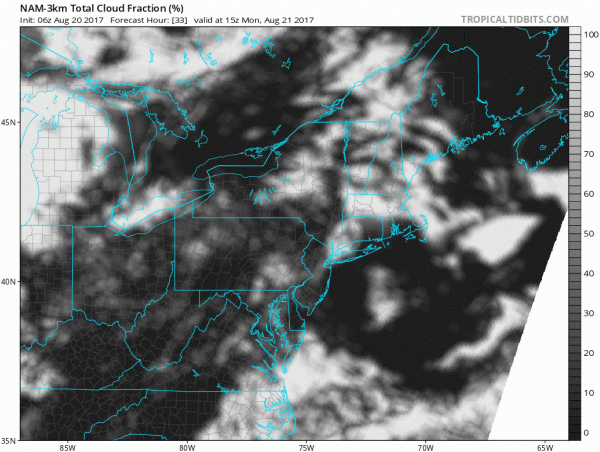 Solar Eclipse Weather Clouds Moving Eastward
Before we get to the weather for today which is obviously beautiful given the dry air and clear skies showing up on the satellite, we have some complications developing for Monday and right during the critical time of the solar eclipse. Notice on the satellite loop there is a cluster of clouds moving across the upper Mississippi Valley. Well guess what? Those clouds and that disturbance look to move right across our area tomorrow around midday and lasting through the afternoon. It doesn't look to be a solid overcast but it may be enough to cut down or even eliminate our view here. Remember our area is going to get about 75% coverage so it is not going to get completely dark here by any means. I just want to prepare everyone because certainly there are those who think we are going to experience what people see in the path of totality which we clearly are not.
SATELLITE LOOP

Meanwhile we have today which is a beautiful day overall with lots of sunshine and very warm temperatures in the middle to upper 80s. It is a perfect almost late August beach day or pool day or anything outdoors day. No showers are forecast and radars should be quiet.
REGIONAL RADAR

Other than the cloud issues for some on Monday it should be partly sunny most of the time and temperatures again will be in the mid to upper 80s. We will do it one more time Tuesday with higher humidity and then set up for a cold front moving through Wednesday with some showers and thunderstorms possible. Thursday Friday and through next weekend a cool high from Canada arrives and sets up a northeast flow of nice fresh Canadian air which will put us in sunshine and temperatures in the 70s for at least a few days. There may eventually be complications with the front stalled to our south and an onshore flow setting up but we will deal with those specifics as we move through this coming week.

GET JOE A CIGAR IF YOU LIKE 
FiOS1 News Weather Forecast For Long Island
FiOS1 News Weather Forecast For New Jersey
FiOS1 News Weather Forecast For Hudson Valley
LATEST JOESTRADAMUS ON THE LONG RANGE