Soaking Rain Arrives Thursday Ends As A Little Snow Friday
Severe Weather Outbreak Across the South

Weather in 5/Joe & Joe Weather Show Latest Podcast
Soaking Rain Arrives Thursday Ends As A Little Snow Friday
Severe Weather Outbreak Across the South
A happy Saint Patrick's Day to all! It may wind up being an historic weather day if the severe weather risk across the Southern US verifies. The Storm Prediction Center has issued a rare HIGH risk for severe weather in parts of Central Mississippi and a large area of moderate risk of severe weather across the Central Gulf States.
This translates into a 30% chance of a tornado EF2 or higher within 25 miles of any point in the moderate and high risk zone! Most of these thunderstorms will come late today and tonight and we expect SPC to be very busy issuing watches across the risk zone.
Thursday the severe weather risks shift to the Southeast and Southern Mid Atlantic states with a MODERATE risk indicated by the Storm Prediction Center. The severe weather season has been slow to get going but we are about to see it pick up in a big way.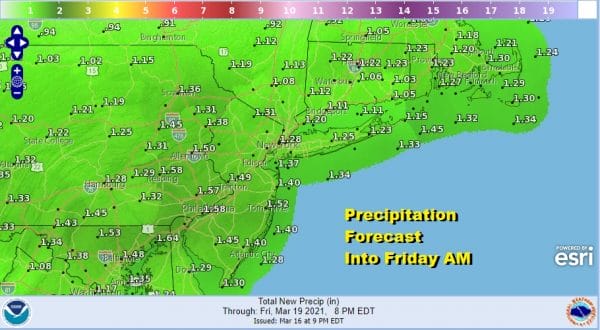 The storm system that is moving east out of the Southwest is going to bring a soaking rain here beginning Thursday morning in the Northern Mid Atlantic and spreading northward into Southern New England Thursday afternoon. It will be the first soaking rain we have gotten in nearly 4 weeks and much needed due to the recent super dry conditions that have set off brush fires.
SATELLITE

The issue today will be clouds that will be around all day. Some breaks of sun are possible but we should also stay precipitation free. Regional radars are quiet in the Northeast and Mid Atlantic states.


Let's move on to Thursday where rain develops from south to north with temperatures in the 40s to lower 50s. Low pressure will move across the lower Ohio Valley and then exit the coast near Virginia and move northeast. At the same time cold air from Eastern Canada will be dropping southward and changing the rain to snow across parts of Northern Pennsylvania, Upstate NY and New England.
it continues to take longer and longer and longer for cold air to arrive. I have never been impressed by this system and I remain unimpressed. Precipitation ends Friday morning. Perhaps some inland elevated areas get a quick coating to an inch or so. Otherwise we will see improving weather conditions Friday with highs in the 40s and then temperatures head south Friday night into the 20s. The weekend looks good. Saturday we will see sunshine with highs in the 40s. It should start to turn warmer on Sunday with some sunshine with highs in the 50s to near 60. Next week we see warmer temperatures in general with dry conditions however we will have to evaluate the impact of an ocean wind and whether an onshore flow creates cloud issues. Spring arrives this weekend!!!

Please note that with regards to any severe weather,  tropical storms, or hurricanes, should a storm be threatening, please consult your local National Weather Service office or your local government officials about what action you should be taking to protect life and property.