Snowy Wintry Pattern February Begins
Snowy Wintry Pattern February Begins
Todays' weather system was yet another reminder of the biases that have carried through since late October. Weather systems continue to be reeled in westward at the last minute and are poorly handled by weather models as a whole. This time around it was another winner for snow lovers near the immediate coast with a couple of inches up and down the New Jersey coast and for Long Island and Coastal Connecticut it was a jackpot in some areas where 4 to 8 inches fell.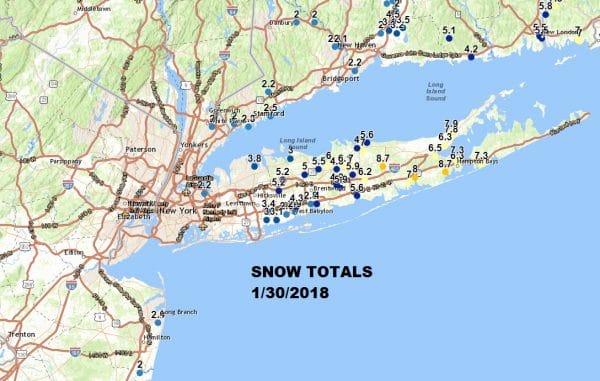 I'm wondering whether today's system was one of those shots across the bow and a signal of what we may be dealing with going forward into February. The upper air pattern continues to evolve into a cold and wintry one at least for the next 2 weeks. No doubt the January "thaw" such as it was is now over and the overall trend going forward is colder than average with temperatures and i believe we will have ample opportunities for snow going forward. Remember that while weather patterns may not repeat exactly, they do tend to rhyme somewhat. Going forward for the next couple of weeks we will see weather fronts come through every couple of days and each one will afford the opportunity for a wave to develop on the front after it goes by. This could mean some snow. The first of these occurred this weekend. The second one is coming late Thursday into Friday morning.
GFS FORECAST FRIDAY FEBRUARY 2, 2018
Earlier runs from days ago had a more aggressive scenario here but models have been trending weaker as we get closer to event time. The issue here is that the wave develops pretty much overhead which limits any snowfall on the back side. Once this goes by, it turns very cold going into the weekend.
GFS UPPER AIR JET STREAM PATTERN EARLY NEXT WEEK
Now comes the longer term pattern over the next 2 weeks which will be dominated by a trough in the east and a ridge in the west. As weather systems drop into the trough position in the East it will be a question of how strong each disturbance is or isn't. The one that follows the system for this Thursday night will be one for Sunday night into Monday. Models show yet another system that will head our way later next Wednesday into Thursday. All indications are that this pattern we are going into will carry through at least through the first half of February.
MANY THANKS TO TROPICAL TIDBITS FOR THE WONDERFUL USE OF THE MAPS
GET JOE A CIGAR IF YOU LIKE!
FiOS1 News Weather Forecast For Long Island
FiOS1 News Weather Forecast For New Jersey
FiOS1 News Weather Forecast For Hudson Valley
NATIONAL WEATHER SERVICE SNOW FORECASTS
LATEST JOESTRADAMUS ON THE LONG RANGE
Weather App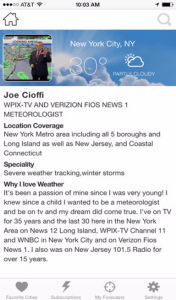 Don't be without Meteorologist Joe Cioffi's weather app. It is really a meteorologist app because you get my forecasts and my analysis and not some automated computer generated forecast based on the GFS model. This is why your app forecast changes every 6 hours. It is model driven with no human input at all. It gives you an icon, a temperature and no insight whatsoever.
It is a complete weather app to suit your forecast needs. All the weather information you need is right on your phone. Android or I-phone, use it to keep track of all the latest weather information and forecasts. This weather app is also free of advertising so you don't have to worry about security issues with your device. An accurate forecast and no worries that your device is being compromised.
Use it in conjunction with my website and my facebook and twitter and you have complete weather coverage of all the latest weather and the long range outlook. The website has been redone and upgraded. Its easy to use and everything is archived so you can see how well Joe does or doesn't do when it comes to forecasts and outlooks.
Just click on the google play button or the apple store button on the sidebar for my app which is on My Weather Concierge. Download the app for free. Subscribe to my forecasts on an ad free environment for just 99 cents a month.
Get my forecasts in the palm of your hand for less than the cost of a cup of Joe!