Snow Wintry Mix Monday Snow Forecast 01082018
Snow Wintry Mix Monday Snow Forecast 01082018
As this brutal Arctic air mass pulls out and a weak front approaches on Monday there will be some snow and some wintry precipitation with at later Monday afternoon into Monday night. Right now given that it is a weak system and given the probability that there will be a wide variation in the precipitation field, the best approach at this point is to cover for a coating to a couple of inches.
Snow Wintry Mix Monday Snow Forecast 01082018
All the weather models today have anywhere from a few hundreths to a few tenths of an inch of liquid. The problem is that they all have the maximum areas in different places. The GFS model has the heaviest precipitation over us. For the best approach is to cover for a large area and then whittle it down when we get closer.
Warmer air will be gradually getting involved aloft so there is a chance we could see some sleet or freezing rain in the mix as well. Temperature profiles suggest that ground temperatures could remain below freezing right into Tuesday morning. Even in warmer areas along the immediate coast where the temperature might pierce 32, the ground is so frozen and so cold that we could have rain freezing on surfaces for hours even though the temperature will rise above 32. This will create some hazardous travel issues. The best thing that can happen is if it fell as all snow which would make getting around a whole lot easier relatively speaking than if we wind up with freezing rain. Thankfully this is not a major event but ice is a concern.
The good news as far as the temperatures are concerned is that we should see the 40s on Tuesday. Though Wednesday will be colder it will be brief and nothing like this. 50s to near 60 are possible in some places late next week.
MANY THANKS TO TROPICAL TIDBITS FOR THE WONDERFUL USE OF THE MAPS
GET JOE A CIGAR IF YOU LIKE!
FiOS1 News Weather Forecast For Long Island
FiOS1 News Weather Forecast For New Jersey
FiOS1 News Weather Forecast For Hudson Valley
NATIONAL WEATHER SERVICE SNOW FORECASTS
LATEST JOESTRADAMUS ON THE LONG RANGE
Weather App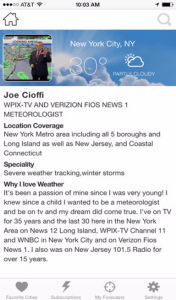 Don't be without Meteorologist Joe Cioffi's weather app. It is really a meteorologist app because you get my forecasts and my analysis and not some automated computer generated forecast based on the GFS model. This is why your app forecast changes every 6 hours. It is model driven with no human input at all. It gives you an icon, a temperature and no insight whatsoever.
It is a complete weather app to suit your forecast needs. All the weather information you need is right on your phone. Android or I-phone, use it to keep track of all the latest weather information and forecasts. This weather app is also free of advertising so you don't have to worry about security issues with your device. An accurate forecast and no worries that your device is being compromised.
Use it in conjunction with my website and my facebook and twitter and you have complete weather coverage of all the latest weather and the long range outlook. The website has been redone and upgraded. Its easy to use and everything is archived so you can see how well Joe does or doesn't do when it comes to forecasts and outlooks.
Just click on the google play button or the apple store button on the sidebar for my app which is on My Weather Concierge. Download the app for free. Subscribe to my forecasts on an ad free environment for just 99 cents a month.
Get my forecasts in the palm of your hand for less than the cost of a cup of Joe!