Snow Tuesday Night Could Be A Cheap Thrill
We have been watching a strong upper air disturbance for early next week that could produce some snow here Tuesday night. What happens is going to depend on the strength of that disturbance and how it "digs" down as it approaches us. By digging we mean that the disturbance has to basically cut a sharp cut into the jet stream as it approaches us and swings around through the Northeast. Models have been going back and forth on the depth of this system and they seem to be coming in a little sharper and a litter stronger with it as we move closer.

  What is preventing this from becoming something more than just a cheap thrill is that this is happening too close to us. It will be a bigger snow producer for places north and northeast of us. There will be a surface low that develops south of Long Island from this disturbance. For it to produce something significant for this area we would need the surface low to develop at least off coastal Delaware if not further south.
The fact that it is going to redevelop so close doesn't allow time to get precipitation going until its too late. However the upper trough is very strong and it is likely that some snow will be produced when the trough moves through. How much? Sometimes it could be as little as a coating. Sometimes there could be a strong enough band of snow to produce some local amounts of 1 to 2 inches. Models seem to be showing at least some snow when it moves by so we will go with it. If the trough does not dig than this could be much ado about nothing. The models seem to be holding their own on this idea so we will stick with it.
The GFS shows 1 to 2 inches across the region and you can see the higher amounts in Central and Northern New England. This is why where this redevelops is so important because the further south the secondary low forms, the better chance that you can tap the moisture when it strengthens. 
Overnight GFS model analysis
With regards to the longer range through the rest of next week, it will be very cold behind this system. Indicators that measure the strength of blocking are going toward extreme readings for a few days. This creates a favorable environment for a more important snow event. However there also needs to be something around for models to work on and that is the big question. Models have been all over the place with this. Just because you have favorable indexes that say cold and snow doesn't necessarily mean they will translate into anything substantial. Please bear this in mind when reading elsewhere. My approach to forecasting is different then most. I wont get worked up over stuff models do in the long range because the period beyond day 7 becomes too volatile from run to run. I won't comment much about specifics until I feel reasonably sure that something has a chance of happening. In other words, don't worry unless i say worry. I usually don't say worry very often. I don't criticize what other people do. That's their business. It's their page. If they want to talk about things 2 weeks from now that's fine. I'm not a good enough forecaster to know the weather specifics 2 weeks from now. I wish I were. Its one thing to talk about the broad pattern. Its another to talk snowstorms off a model run. That I won't do.
That said there are some forecasters like Dave Tolleris of Wxrisk who knows long range better than most people I know. He does it responsibly. There are always possibilities  in the weather world and good forecasters learn from every event because it makes them better forecasters and better meteorologists. Bear this in mind when you read other opinions regarding both the short and long term. Of course you as an audience are always free to choose whom you follow and who you trust. That is the beauty of the internet. It has given you choice!
NATIONAL WEATHER SERVICE ACCUMULATION FORECASTS
LATEST JOESTRADAMUS ON THE LONG RANGE
Weather App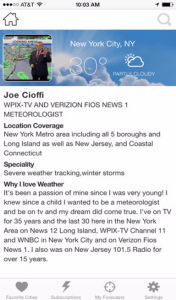 Winter is here! Don't be without Meteorologist Joe Cioffi's weather app. It is a complete weather app to suit your forecast needs. All the weather information you need is right on your phone. Android or I-phone, use it to keep track of all the latest weather information and forecasts. This weather app is also free of advertising so you don't have to worry about security issues with your device. An accurate forecast and no worries that your device is being compromised.
Use it in conjunction with my website and my facebook and twitterand you have complete weather coverage of all the latest weather and the long range outlook. The website has been redone and upgraded. Its easy to use and everything is archived so you can see how well Joe does or doesn't do when it comes to forecasts and outlooks.
Just click on the google play button or the apple store button on the sidebar for my app which is onMy Weather Concierge. Download the app for free. Subscribe to my forecasts on an ad free environment for just 99 cents a month.
Get my forecasts in the palm of your hand for less than the cost of a cup of Joe!