Snow Totals 6 Inches Long Island, More To The West Moving East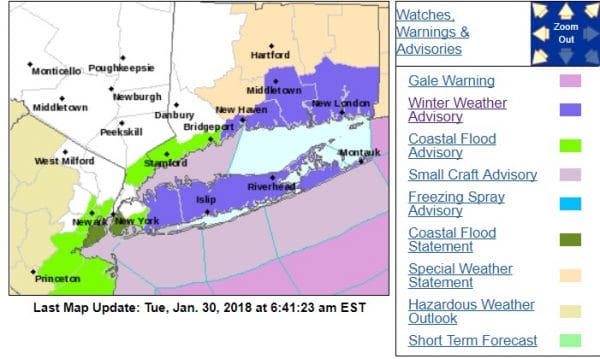 Snow Totals 6 Inches Long Island, More To The West Moving East
Winter Weather Advisory Long Island Southeast Connecticut
Overnight snow from a coastal storm interacting with an upper air disturbance to the west came in with an upside surprise as many areas in the Eastern half of Long Island and Southeastern Connecticut are finishing up with anywhere from 4 to 6 inches.  Lesser amounts fell to the west. The low offshore is bending back westward thanks to the upper air disturbance to the west in Pennsylvania. While the 2 systems remain separate the system to the west is working some magic on the one to the east. There will be some snows from this clipper system later today across Eastern Pennsylvania, New Jersey and the Hudson Valley before the area moves offshore. Otherwise it will be a cloudy cold day with temperatures just in the 30s.
US SATELLITE

REGIONAL RADAR

Radars show the two separate areas moving along this morning on the regional and local radars below. Movement is to the east.
LOCAL RADAR NEW YORK CITY
LOCAL RADAR PHILADELPHIA

Colder air moves in tonight with lows in the teens and lower 20s. Wednesday we will see sunshine but it will be cold with highs just in the 30s.
An active weather pattern develops ahead as weather models are responding to a more bullish upper air pattern as far as precipitation is concerned. Thursday we will see arriving clouds with highs in the 40s. A cold front will come through with a wave developing on it. This will produce some rain Thursday night that changes over to snow before ending during Friday. Right now I would lean toward a minor event unless the wave becomes more important. Another front arrives on Sunday with the chance for some snow showers and then the front stalls with another wave developing on it for Monday. This stands a better chance of accumulating snow and yet another follows later next week. In between will be shots of cold air. Winter it seems may be sticking around for awhile.

GET JOE A CIGAR IF YOU LIKE 
FiOS1 News Weather Forecast For Long Island
FiOS1 News Weather Forecast For New Jersey
FiOS1 News Weather Forecast For Hudson Valley
LATEST JOESTRADAMUS ON THE LONG RANGE