DOWNLOAD MY NEW FREE JOESTRADAMUS WEATHER APP FOR ALL DEVICES
THE APP IS ABSOLUTELY FREE TO ALL BUT CONSIDERING SUBSCRIBING TO PATREON FOR A WEATHER EXPERIENCE FREE OF ADS, EXCLUSIVE VIDEOS FOR MEMBERS ONLY AND MUCH MORE…STARTS AT $2 A MONTH..MESSAGE ME AT ANY TIME
Snow Tonight More South Less North Snow Rain Friday Night
We didn't see too much to change our general ideas about tonight's weak weather system heading our way. Clouds to the south west look more imposing than they actually are. While there is extensive cloud cover there are two weak systems  embedded in the cloud cover and both are not showing a lot of precipitation with it at the moment. The National Weather Service is experiencing a data glitch on the radars and they will be back on the posts as soon as the glitch is resolved.
SATELLITE

This first system is weak. There will be an area of rain and snow that will move across Northern Virginia into Eastern Pennsylvania except the Northeast, and then reach to just north of NYC. Snow amounts on the map could nudge a little higher if the precipitation holds together a  bit longer. Some of the models are hinting at this so we massaged the amounts a touch higher.
Much of what falls will be from about 4am to 10am so this is a very short duration event and it will be weakening over time. The areas to the south and west catch the stronger radar echos and therefore get the higher amounts.
EARLY CALL FOR FRIDAY NIGHT INTO SATURDAY MORNING
Now on to Friday night into Saturday morning. Actually this is not a half bad looking system as low pressure develops along the coast and heads to the northeast. It looks to have a better precipitation presentation and the upper levels seem cold enough for snow even along some coastal areas. A quarter to a half inch of liquid here seems plausible so here is how we see it at the moment.
The area I would keep a close eye on for upside here is Southern New England and Long Island where there could be the best chance for an upside surprise.Watching temperatures tomorrow night will be a fun sport as this system gets organized.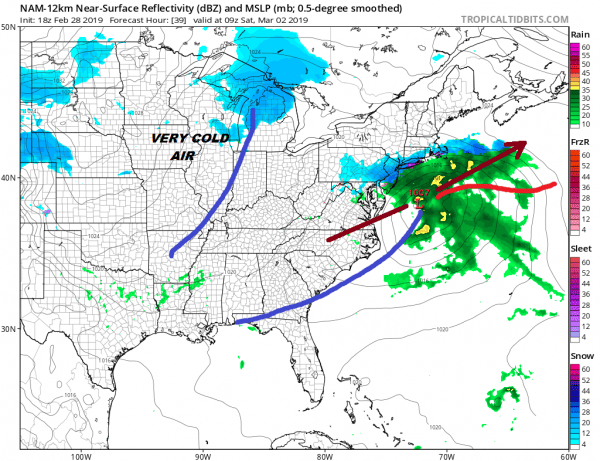 As far as the Sunday night Monday system is concerned, I will post about this later tonight. Here is the short version. I think the models today were too vigorous and too over developed and that this could wind up being colder and flatter as we get closer to the event. It is still early as that system's outcome will depend on how the system for Saturday morning plays out.
MANY THANKS TO

TROPICAL TIDBITS

FOR THE USE OF MAPS
Please note that with regards to any tropical storms or hurricanes, should a storm be threatening, please consult your local National Weather Service office or your local government officials about what action you should be taking to protect life and property.