Snow Threats Next 5 Days
GET JOE A CIGAR IF YOU LIKE!
SNOW THREATS NEXT 5 DAYS
Over the next 5 days it looks like we have 3 threats for some snow here with varying amounts in different areas so we will try and make some sense out of this for you. The first one is for tonight into Saturday morning. The radar below shows an expanding though narrow area of snow ahead of a warm from approaching from the west. This is the sort of system that could give anywhere from a coating to an inch or two in some areas and there is usually high variability with this. Some places will get something and some places won't. So the best approach is to cover this chance in an areas in New Jersey mainly along and north of route 80 northeastward which includes New York City, Long Island, Hudson Valley and Connecticut. Again there will be high variability so some of you will get something and some won't
JOE'S SNOW FORECAST MAP FOR TONIGHT INTO SATURDAY MORNING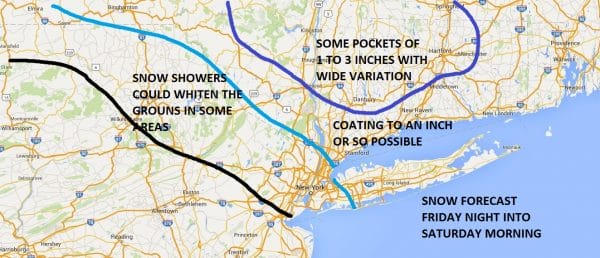 You can see the presentation on the radar is narrow and streaky. This make pinpointing things a bit tough. Weather models are showing a little expansion of the area as it moves east. Snow will arrive in some areas late this evening (after 8pm). Models show a second burst late tonight into Saturday morning as well.
NAM MODEL FORECAST 10PM THIS EVNEING.
The maps below are the National Weather Service forecast snow maps with the most likely snowfall prediction for tonight and Saturday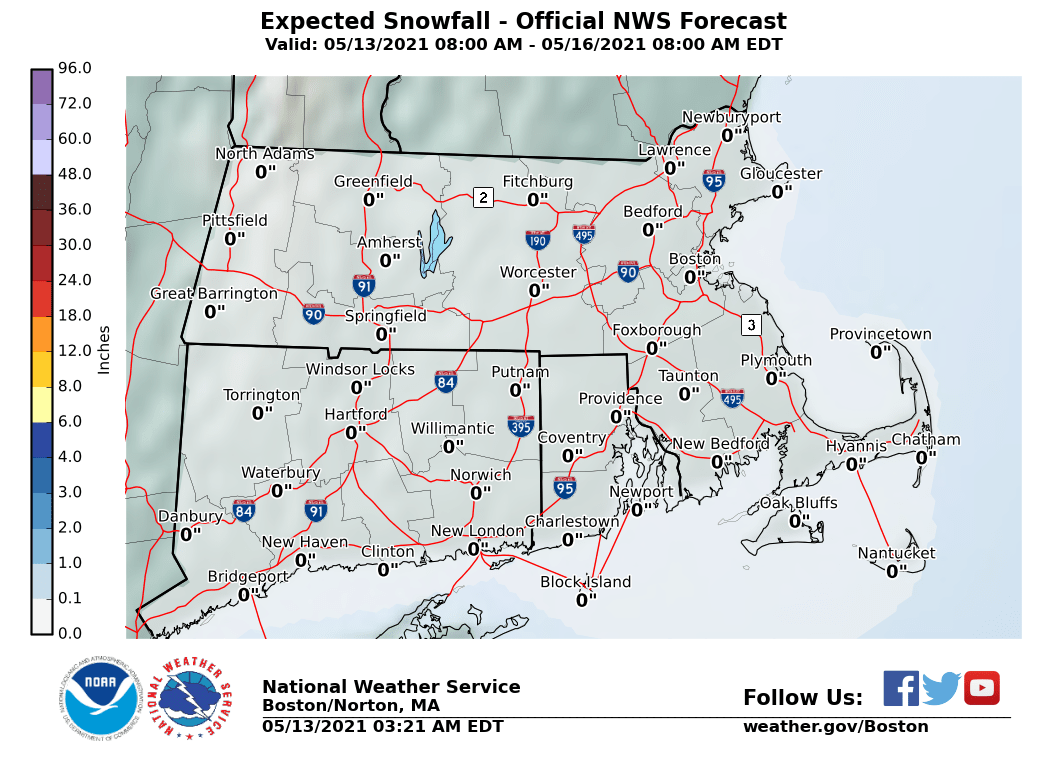 Now as far as Sunday is concerned we are waiting a little more model data to figure this out. Low pressure is going to develop to our south and become a major storm on Monday in Eastern New England. This is going to produce very windy conditions here on Monday. In the development phase this storm comes out almost the same way as yesterday's storm did. The only difference is that the storm intensifies further to the east. However there will be overrunning precipitation ahead of it.
NAM MODEL SUNDAY AFTERNOON
We have the developing low off the New Jersey coast Sunday afternoon. What concerns me is the strengthening block to the northeast which will cause cold air to bleed southward from New England southward. If this happens only a little stronger than the NAM model shows it could mean accumulating snow as far south as NYC, Long Island, and New Jersey south to Route 80. In areas inland north of RT 287 and Route 15 in Connecticut there could even be a few inches of accumulation with even higher amounts north of Route 84 across Connecticut. We will monitor trends in the model going forward to see if this becomes a reality.
The middle of next week could prove interesting as the strong blocking continues and some models are signalling the idea of a storm along the east coast though at this point the variability is high. The European model is the most aggressive  with this idea. But we like to deal with these things one system at a time so we will focus on Sunday first before jumping to Wednesday/ Thursday,