Snow Threats Frigid Cold Long Range
Snow Threats Frigid Cold Long Range
All of the long range models continue to show the weather in North America basically locked in a very cold pattern for the next couple of weeks. That doesn't mean it will be frigid cold every day. Clearly that won't be the case as there is always moderation in between However there will be a couple of visits from the land of Santa Claus as air masses drop down from Northern Canada and take temperatures here down to very low levels.
GFS JET STREAM FORECAST WEDNESDAY DECEMBER 13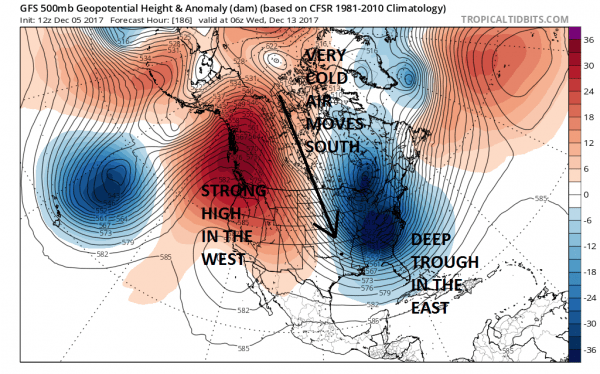 The jet stream pattern shown here by the GFS for next Wednesday is about as cold a looking pattern as you can get. Ridges and troughs are stretched to extremes here with a strong jet stream that starts in the Arctic regions and goes straight southward into the Southeastern US & Florida. The result will be an exceptionally cold air mass that extends well to the south in the Continental United States.
GFS FORECAST TEMPERATURE ANOMALY DECEMBER 13-15 CLICK TO ANIMATE
Everywhere east of the Mississippi River for the most part will be seeing temperatures fomr 12 to 20 degrees below average next Wednesday and Thursday. For us it could mean 2 days where temperatures are hard pressed to get out of the 20s. With an upper trough this deep the question is whether this cold air comes with some sort of storm developing in the East to act as the mechanism to pull all this cold air southward. Indeed weather models do show this possibility for later Tuesday into Wednesday of next week.
EUROPEAN SURFACE FORECAST WEDNESDAY DECEMBER 13
GFS SURFACE FORECAST WEDNESDAY DECEMBER 13
Both the GFS & European model show an intensifying storm just offshore which is in response to a deep intensifying trough in the East. Before you get your snow shovels ready and your snow blowers tuned up, remember that this is going to adjust in many directions between now and next Wednesday. If the upper trough is less dynamic we could have a weaker system further north and this would be nothing more than an Arctic front passing through. In the meantime we have Friday night into Saturday to deal with which is front and center at the moment.
Either way it will turn frigid cold at some point later next week. It would also seem to me that since this cold pattern is going to hold for awhile one of these weather systems will eventually get us with some snow. It is the how and when that is always tough.
For more on this check out JOESTRADAMUS and his post on the chance for snow this weekend
MANY THANKS TO TROPICAL TIDBITS FOR THE WONDERFUL USE OF THE MAPS
GET JOE A CIGAR IF YOU LIKE!
FiOS1 News Weather Forecast For Long Island
FiOS1 News Weather Forecast For New Jersey
FiOS1 News Weather Forecast For Hudson Valley
NATIONAL WEATHER SERVICE SNOW FORECASTS
LATEST JOESTRADAMUS ON THE LONG RANGE
Weather App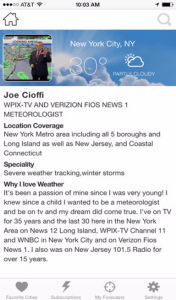 Don't be without Meteorologist Joe Cioffi's weather app. It is really a meteorologist app because you get my forecasts and my analysis and not some automated computer generated forecast based on the GFS model. This is why your app forecast changes every 6 hours. It is model driven with no human input at all. It gives you an icon, a temperature and no insight whatsoever.
It is a complete weather app to suit your forecast needs. All the weather information you need is right on your phone. Android or I-phone, use it to keep track of all the latest weather information and forecasts. This weather app is also free of advertising so you don't have to worry about security issues with your device. An accurate forecast and no worries that your device is being compromised.
Use it in conjunction with my website and my facebook and twitter and you have complete weather coverage of all the latest weather and the long range outlook. The website has been redone and upgraded. Its easy to use and everything is archived so you can see how well Joe does or doesn't do when it comes to forecasts and outlooks.
Just click on the google play button or the apple store button on the sidebar for my app which is on My Weather Concierge. Download the app for free. Subscribe to my forecasts on an ad free environment for just 99 cents a month.
Get my forecasts in the palm of your hand for less than the cost of a cup of Joe!