Snow Threat Sunday Morphs Into Something Different
Snow Threat Sunday Morphs Into Something Different
We continue to watch with some amazement but no surprise how weather models continue to take the Sunday system and morph it into something completely different. The GFS model is not quite there yet but the Canadian model which is usually not very good, every once in awhile does seem to get a grasp of what is going on. It has not shown this southern system at all over the last few days and indeed it appears that this may now indeed be the case. The European model today has pulled way back on the idea of that southern system coming out Saturday night into Sunday and instead begins to hold back most of it in the Gulf of Mexico.
The European is not quite there yet but the Canadian offers an interesting possibility in that the main energy in the Gulf of Mexico holds back and waits for a stronger upper air trough in the northern jet stream to impact it early next week.
This is the Canadian model picture for next Tuesday morning. It phases the trough in the north with the energy in the south and comes up with a strong storm moving up the coast. The European still has minimal southern energy and no phase at all so it is all in the northern low.
The question going forward is whether the Canadian is right about what happens in the southern stream. There are many arguments against this idea including the fact that phasing and deep troughs have been virtually absent for the last 6 months so what is different now? Is it the blocking to the north that is enhancing this?
We may get some clues from the GFS model run in a few hours to see where this is going and if this even a viable solution. Right now the Canadian is simply food for thought going forward.
MANY THANKS TO TROPICAL TIDBITS FOR THE WONDERFUL USE OF THE MAPS
GET JOE A CIGAR IF YOU LIKE!
SNOW REMOVAL COMPANIES FOR YOUR WINTER NEEDS
             LONG ISLAND                                ROCKLAND COUNTY                   Connecticut
     ROCKLAND COUNTY                         TRI STATE SNOW REMOVAL                           JOHNSTOWN PA
FiOS1 News Weather Forecast For Long Island
FiOS1 News Weather Forecast For New Jersey
FiOS1 News Weather Forecast For Hudson Valley
NATIONAL WEATHER SERVICE SNOW FORECASTS
LATEST JOESTRADAMUS ON THE LONG RANGE
Weather App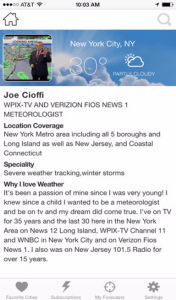 Don't be without Meteorologist Joe Cioffi's weather app. It is really a meteorologist app because you get my forecasts and my analysis and not some automated computer generated forecast based on the GFS model. This is why your app forecast changes every 6 hours. It is model driven with no human input at all. It gives you an icon, a temperature and no insight whatsoever.
It is a complete weather app to suit your forecast needs. All the weather information you need is right on your phone. Android or I-phone, use it to keep track of all the latest weather information and forecasts. This weather app is also free of advertising so you don't have to worry about security issues with your device. An accurate forecast and no worries that your device is being compromised.
Use it in conjunction with my website and my facebook and twitter and you have complete weather coverage of all the latest weather and the long range outlook. The website has been redone and upgraded. Its easy to use and everything is archived so you can see how well Joe does or doesn't do when it comes to forecasts and outlooks.
Just click on the google play button or the apple store button on the sidebar for my app which is on My Weather Concierge. Download the app for free. Subscribe to my forecasts on an ad free environment for just 99 cents a month.
Get my forecasts in the palm of your hand for less than the cost of a cup of Joe!