Snow Threat Back On For Tuesday Per GFS
The on again off again snow threat that the models have been playing around with for later Tuesday and Tuesday night seems to be back on again according to the latest run of the GFS model. As we noted yesterday the issue would be whether the strong disturbance that is dropping southeastward out of Central Canada would be a powerhouse and dig a sharp trough to the east coast. Models backed away from this idea yesterday. Now the GFS at least (we will wait for confirmation from the European) says that it is back on again.
TONIGHT'S GFS RUN
YESTERDAY'S GFS RUN
You can see the difference in the two runs from yesterday and the new overnight run. The disturbance did not dig and remained very broad and flat on the day run. Tonight's run is much different as the trough is much sharper and digs strongly into the Western Great Lakes. This is the key to whatever happens. The sharper system will force development of a wave on the Arctic front further south and west. The broad trough would produce little development or development well north and east.
This is how it plays out on the overnight surface map. This would be a minor event if it were to happen this way..a coating to perhaps an inch or two in some places. In order for this to be something more the upper air disturbance would have to be stronger, slower, and a little further left. That isn't impossible since we are still 132 hours away from this time frame. Again I will wait to see confirmation from the European before putting faith in this. Models may very well back away from this idea later Friday. One key will be the lead system for Sunday. It is interesting that that lead storm is now tracking a little further east. Perhaps this is the due to the models beginning to respond aggressively to the developing huge block. The block is in the building stages so we will watch and see whether this becomes any kind of trend.
Whatever happens with this, the end result will be another shot of very cold air coming for Wednesday through Friday of next week. Temperatures during that time frame will drop below freezing and stay there and we could see another round of nights with lows in the teens and single digits and a couple of days with highs just in the teens and 20s.
Here is the latest overnight gfs model video analysis
NATIONAL WEATHER SERVICE SNOW FORECASTS
LATEST JOESTRADAMUS ON THE LONG RANGE
Weather App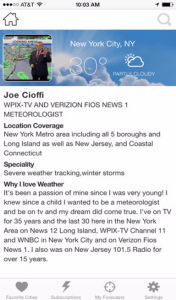 Winter is here! Don't be without Meteorologist Joe Cioffi's weather app. It is a complete weather app to suit your forecast needs. All the weather information you need is right on your phone. Android or I-phone, use it to keep track of all the latest weather information and forecasts. This weather app is also free of advertising so you don't have to worry about security issues with your device. An accurate forecast and no worries that your device is being compromised.
Use it in conjunction with my website and my facebook and twitterand you have complete weather coverage of all the latest weather and the long range outlook. The website has been redone and upgraded. Its easy to use and everything is archived so you can see how well Joe does or doesn't do when it comes to forecasts and outlooks.
Just click on the google play button or the apple store button on the sidebar for my app which is onMy Weather Concierge. Download the app for free. Subscribe to my forecasts on an ad free environment for just 99 cents a month.
Get my forecasts in the palm of your hand for less than the cost of a cup of Joe!