DOWNLOAD MY NEW FREE JOESTRADAMUS WEATHER APP FOR ANDROID
THE APP IS ABSOLUTELY FREE TO ALL BUT CONSIDERING SUBSCRIBING TO PATREON FOR A WEATHER EXPERIENCE FREE OF ADS, EXCLUSIVE VIDEOS FOR MEMBERS ONLY AND MUCH MORE…STARTS AT $2 A MONTH..MESSAGE ME AT ANY TIME

Snow South Jersey Ocean County South Cold Continues Weekend Storm South
NEW JERSEY & PARTS OF NE PA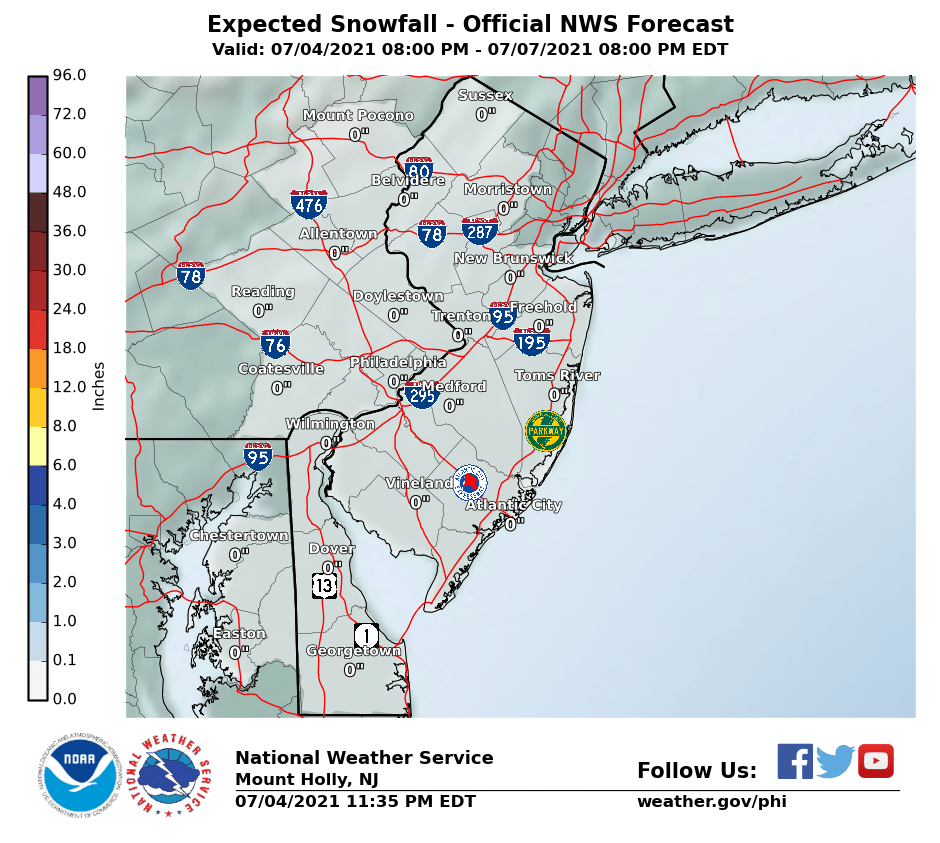 This morning we have one of those odd situations that happens sometimes along the coast. This usually happens over Long Island but occasionally we see it happen in Coastal New Jersey. We have a coastal low well offshore that will develop into a storm well offshore. There is an "arm" or a trough that is rotating back westwestward and southward across Ocean County southward to Cape May County. These types of situations can leave a coating to an inch or so and sometimes you get a few spots that pick up a couple of inches. It is very small scale and unless you are in those 3 southern counties you aren't seeing very much of anything at all.
Any snow should be over with later this afternoon as the offshore storm moves away. Everywhere else we will see some sunshine giving way to some clouds and then those clouds will pull out later this afternoon as the coastal low pulls away to the east. Temperatures will be in the 30s today with a cold north wind.
EASTERN SATELLITE

REGIONAL RADAR

The satellite and regional radars really show just how small an area we are talking about hree as snow is flaring up on the radar surrounded by quiet radars all around us. Once this has played out today we will see quiet radars into the start of the weekend at the very least.
LOCAL RADAR PHILADELPHIA

Tonight will be clear and meat locker cold with light winds. Lows will be in the teens to low 20s with light winds. Sunshine will give way to some clouds on Thursday as a cold front approaches and moves through No rain or snow is forecast from this though there could be some scattered snow showers well inland. Then it turns very cold for Friday and the weekend with sunshine for Friday and Saturday. Highs Friday will be in the 30s…teens and low 20s Saturday morning. Highs Saturday will be just in the low to mid 30s at best.
COASTAL STORM OVER THE WEEKEND LOOKS TO STAY SOUTH
We didn't see too much change in the outlook for a storm that will develop in the Southeast US this weekend. Weather models continue to show a strong northwest jet stream across New England this weekend and into early next week. This effectively protects us from snow and it appears that precipitation won't make it much further north then Southern New Jersey before the storm is pushed out to the east on Monday. We will discuss the possibilities with this system in detail later today.
MANY THANKS TO

TROPICAL TIDBITS

FOR THE USE OF MAPS
Please note that with regards to any tropical storms or hurricanes, should a storm be threatening, please consult your local National Weather Service office or your local government officials about what action you should be taking to protect life and property.
LATEST JOESTRADAMUS ON THE LONG RANGE