DOWNLOAD MY NEW FREE JOESTRADAMUS WEATHER APP FOR ANDROID
SNOW SLEET RAIN ADVANCING NORTHWARD FASTER THIS MORNING
A BURST OF ACCUMULATING SNOW NORTHERN NEW JERSEY TO SOUTHERN NEW ENGLAND
Watching the radars this morning is clear that the large are of precipitation to the south is very impressive and is actually advancing northward a little faster than modeled. This is a situation where an hour of snowfall could mean an additional inch or two of accumulation. Snow sleet and rain spreads northward reaching Philadelphia in a couple of hours and reaching NYC probably shortly after 12 noon.
This is going to interesting to see since the NAM model generates 1.00 of liquid between 1pm and 7pm and that is extremely impressive. Whoever stays all snow in this is going to get clobbered. Even if you want to cut that amount in half, a thumping of several inches certainly seems doable just to the west of NYC.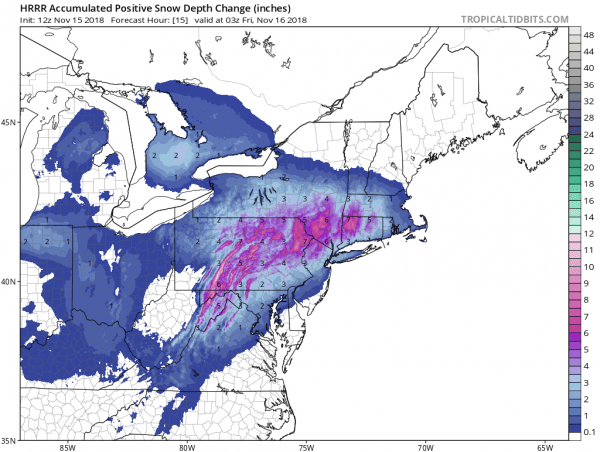 The HRRR snow forecast which on this map is supposed to show totals reduced by melting and sleet, i think is a rather fair forecast for this so from here we just want to watch the radar and the surface observations hour by hour.
EASTERN SATELLITE

REGIONAL RADAR

LOCAL RADAR NEW YORK CITY
LOCAL RADAR PHILADELPHIA

As far as my snow accumulation forecast i am leaving it the same from two days ago. I think that there is a good chance for an upside surprise from here for all areas especially in elevated areas to the north and west. The evening commute is going to be very difficult in the zone where it will be snowing hard.
Tonight the change to sleet and rain spreads north and west but there will be many areas inland that are going to struggle to get above 32. This means significant icing could occur in some areas.
Along the immediate coast it will be rain with a mix at the start and then heavy rains with gales and coastal flooding at the times of high tide. Melted liquid amounts from this system will be in the 1 to 2 inch rain.
SUBSCRIBE TO PATREON FOR A WEATHER EXPERIENCE FREE OF ADS, EXCLUSIVE VIDEOS FOR MEMBERS ONLY AND MUCH MORE…STARTS AT $2 A MONTH..MESSAGE ME AT ANY TIME

MANY THANKS TO

TROPICAL TIDBITS

FOR THE USE OF MAPS
Please note that with regards to any tropical storms or hurricanes, should a storm be threatening, please consult your local National Weather Service office or your local government officials about what action you should be taking to protect life and property.
LATEST JOESTRADAMUS ON THE LONG RANGE