Snow & Siberian Snow Cover Rankings
Snow & Siberian Snow Cover Rankings
With the recent focus on Siberian snow cover growth, what exactly does it all mean really. Is it a lock that high snow cover growth rates will translate into a cold and snowy winter in the Eastern US?
The chart above ranks Siberian snow cover growth rates over the last 40 plus years. Red years are el nino years. Yellow bars are strong el nino years. Grey are non el nino years. Light blue are weak La Nina years. Dark blue are strong La Nina years.
October 1976 is number 1 on this list followed by 2002 and this October which are basically tied. 2009 is number 4, 2006 is number 5. If we take out the strong el nino year of October 2015, the other three winters were cold and snowy with 1976-1977 exceptionally cold with near record cold in many areas in January 1977. Lets look at New York Tri state area on what the last 16 years have meant. The year is October of that year and the cold and snow are the winters that follow. So 1976 was in October 1976 and the winter of 1976-77 and so on. What does stand out is that in all of the above normal snow years, the snow growth was strongest in the southern flank south of 60 degrees north.
YEAR      RANK      COLD      SNOW    NINO
1976         1             MB             A          EL        MODERATE
2002         2              B               A          EL           WEAK
2016         2              ?                ?          NO
1970         4              N              N          LA           WEAK
2009         5              B              A           EL           WEAK
2006         6             A               B           EL       MODERATE
2012         7             N               A          NO     
1968        8              A               B           EL        WEAK
2014        9              B               A           EL       MODERATE
2015       10             A               B           EL         STRONG
1974       11             A               B          LA       MODERATE
2013       12             B               A         NO
Now I am looking at areas in and around NYC so the numbers here are extremely deceptive if we are talking about the entire northeast. For example coastal snowfalls were near normal during the winter of 1976-77 but inland snowfalls were above normal and many areas of the northeast particularly upstate NY in the land of lake effect snows set records that still hold up in some places. This is the problem with relying on one indicator as an unequivocal  driver of a long range forecast. There are lots of holes here to comb through. We can say that strong el ninos and strong la ninas wipe out cold and snow in each instance in the top 10. In the moderate and weak el nino years we don't know here if they were east based or central based. The data might produce different results if we look at Boston or Buffalo or Philadelphia or Washington DC among others. The two winters on the list that had no el nino or la nina influence both were cold and snowy. Then when you look back in years that rank lower where there was no la nina or el nino, the winters were far less severe. On the lower end of the scale the winters were basically sub par from the standpoint of cold and snow regardless of el nino or la nina or neither though again it varies. Also these numbers are taking in all of Eurasia. If we look strickly at the southern and eastern flank, the results are more eyebrow raising.
I have pulled this section from a post I did on Sunday discussing the fact that where snow cover growth occurs matters. 
If you remember during the winter Olympics they had problems with warm temperatures and very little snow. The map below shows that there has been very little snow cover growth in Western areas.  Last year the snow cover growth extended much further west.
Now lets look at another El Nino year which was 2011-12. Notice that the snowcover growth was also more on the western flank like October 2015. The main difference between these 2 El Nino years is that in 2015, there was more growth on the southern flank than in 2011.
Now lets look at October 2001 which was when we are going into a strong La Nina (which we don't have now. Notice the snow cover growth was very weak on the southern flank south of 60 degrees north. The winter of 2001-2002 was a very snowless year through much of the east.
The map below is Siberian snow cover as of October 31 2016 and it continues to aggressive on the southern flank and non existent on the Western Flank west of the Urals.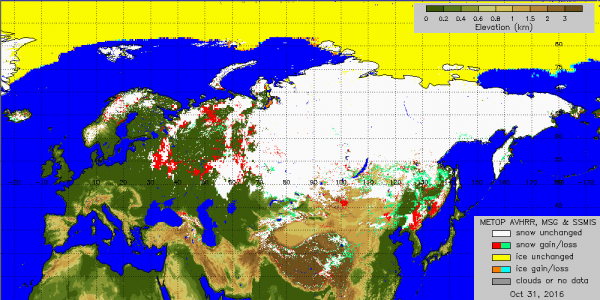 With all the growth this year south rather than west, coupled with a very weak la nina at worst, and the strong finish of the index, I think the odds favor colder and snowier. Just how much colder and snowier remains a mystery until we see the pattern unfold in the coming weeks.
MANY THANKS TO TROPICAL TIDBITS FOR THE WONDERFUL USE OF THE MAPS
           SNOW REMOVAL COMPANIES FOR YOUR WINTER NEEDS
             LONG ISLAND                                ROCKLAND COUNTY                   Connecticut

WINTER 2016-2017 PART 1 OCEAN WATER TEMPERATURES
WINTER 2016-2017 PART 2 ARCTIC SEA ICE AND SIBERIAN SNOW COVER
FiOS1 News Weather Forecast For Long Island
FiOS1 News Weather Forecast For New Jersey
FiOS1 News Weather Forecast For Hudson Valley
NATIONAL WEATHER SERVICE SNOW FORECASTS
LATEST JOESTRADAMUS ON THE LONG RANGE
Weather App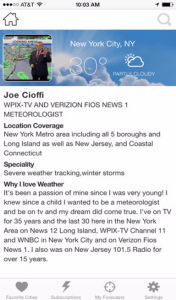 Don't be without Meteorologist Joe Cioffi's weather app. It is really a meteorologist app because you get my forecasts and my analysis and not some automated computer generated forecast based on the GFS model. This is why your app forecast changes every 6 hours. It is model driven with no human input at all. It gives you an icon, a temperature and no insight whatsoever.
It is a complete weather app to suit your forecast needs. All the weather information you need is right on your phone. Android or I-phone, use it to keep track of all the latest weather information and forecasts. This weather app is also free of advertising so you don't have to worry about security issues with your device. An accurate forecast and no worries that your device is being compromised.
Use it in conjunction with my website and my facebook and twitter and you have complete weather coverage of all the latest weather and the long range outlook. The website has been redone and upgraded. Its easy to use and everything is archived so you can see how well Joe does or doesn't do when it comes to forecasts and outlooks.
Just click on the google play button or the apple store button on the sidebar for my app which is on My Weather Concierge. Download the app for free. Subscribe to my forecasts on an ad free environment for just 99 cents a month.
Get my forecasts in the palm of your hand for less than the cost of a cup of Joe!