DOWNLOAD MY NEW FREE JOESTRADAMUS WEATHER APP FOR ANDROID

THE APP IS ABSOLUTELY FREE TO ALL BUT CONSIDERING SUBSCRIBING TO PATREON FOR A WEATHER EXPERIENCE FREE OF ADS, EXCLUSIVE VIDEOS FOR MEMBERS ONLY AND MUCH MORE…STARTS AT $2 A MONTH..MESSAGE ME AT ANY TIME
Snow Showers This Morning Rain New Years Eve Late Week Snow Rain
We have a little bit of a surprise this morning thanks to an upper air disturbance moving through parts of the Northeast. Some snow showers have been dotting the radars this morning. It isn't amounting to much other than a few flakes flying through the air; perhaps a sugar coating in some areas in the Hudson Valley & Northwest New Jersey. This should move out shortly and then we will have clouds with some sunshine and temperatures that should reach into the 40s this afteroon.
EASTERN SATELLITE

REGIONAL RADAR

Days ago weather models were showing accumulating snow here for today but the systems involved are much weaker and noticed they are unphased with an area of snow on the radar over the Northeast and an area of rain moving off the North Carolina coast as two separate features.
LOCAL RADAR NEW YORK CITY
LOCAL RADAR PHILADELPHIA

Now we move on to Monday with arriving clouds ans stronger low pressure heading for the Great with a warm front to our southwest. Rain will arrive midi afternoon to early evening and it will be raining when the clock strikes 12 for the New Year. Temperatures will be rising through the 40s and we could near or over 50 when 2019 arrives. The good news is that the rain gets out of the way by daybreak and weather conditions improve for New Years Day. In fact temperatures Tuesday will be warm with highs in the mid 50s to lower 60s before colder air begins to arrive Tuesday night into Wednesday and Thursday.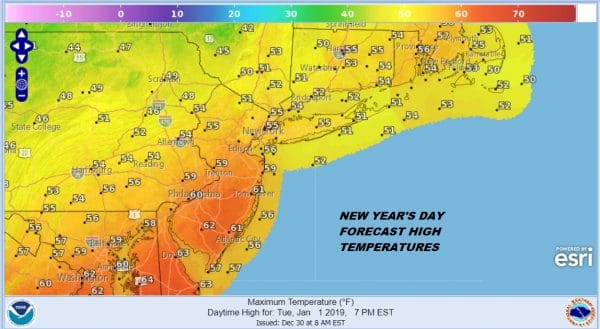 Wednesday will be much colder with highs in the 30s to near 40 though we will see some sunshine. High pressure builds in New England Thursday and another storm system comes out of the south. It looks as if this could bring some snow Thursday and Friday at least to the interior areas of the Northeast. All weather models seem to suddenly be in sync with this but will be an issue of how much cold air is going to be able to establish itself.
At the moment we see the greatest risk for accumulating snow will be from interior Pennsylvania, Upstate New York and much of interior New England. We will be taking this system apart in detail later today.
MANY THANKS TO

TROPICAL TIDBITS

FOR THE USE OF MAPS
Please note that with regards to any tropical storms or hurricanes, should a storm be threatening, please consult your local National Weather Service office or your local government officials about what action you should be taking to protect life and property.