Snow Showers Moving East Weekend Forecast Dry Chilly
Snow Showers Moving East Weekend Forecast Dry Chilly
The final numbers are all in from yesterday's snow storm are in and plotted on the map above. One of the things this map illustrates is how difficult it is to forecast snow amounts when painting a broad brush over a large area. Along the coast for example look at the variability of snow over Long Island with a pocket of 6 to 8 inches. Meanwhile to the west across NYC & nearby urban areas got less when a storm like this would normally give them more snow. This is primarily due to the snow falling during the day melting in the warmer urban settings. Then just inland west, southwest and north and northeast, once you got away from urban settings the storm just dumped heavy snow all day long into yesterday evening. Sun angle or not it made no difference. If it snows hard enough, it sticks!
US SATELLITE

Yesterday's storm is sitting off the coast of Maine and its large circulation is rotating around bringing spokes of moisture in the form of clouds and snow showers. You can see those showing up on the regional radar and the local radars below. They don't amount to much and they will continue from time to time through Friday
REGIONAL RADAR

LOCAL RADAR NEW YORK CITY
LOCAL RADAR PHILADELPHIA

Temperatures tonight will be cold as we drop into the 20s to near 30 by morning and everyone will be below freezing so if it melted today, it freezes overnight. Friday we will see clouds and some sun and the chance for snow showers again with highs in the upper 30s and lower 40s. The weekend looks good with some sunshine both Saturday and Sunday with highs in the low to mid 40s.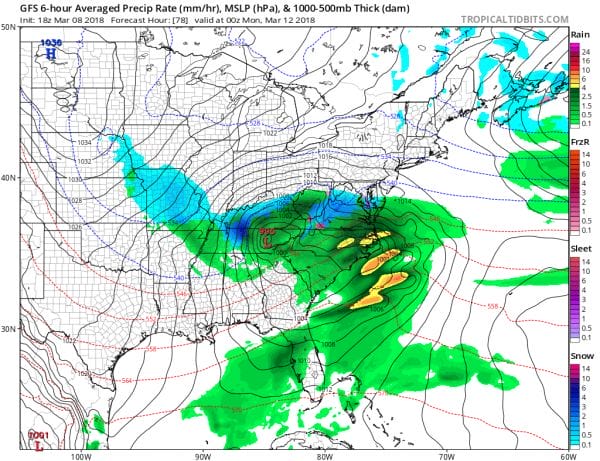 Sunday evening finds us looking at a developing storm to our south. The GFS remains very bullish on the idea of this storm moving up the coast but there is major disagreement on how models handle the overall jet stream pattern here in the east. While the possibility certainly is there, we will continue to watch and wait to see which model has the better handle on the upper air pattern. The question is whether there is enough room for another storm to track closer to the coast versus offshore and weaker. Much will depend on whether the GFS model has a correct view with a strong southern stream system lifting up the East Coast. Other models like the NAM and the European have a weaker flatter looking system that gets ejected to the east northeast. Much time to watch this so no need to worry about it now.

GET JOE A CIGAR IF YOU LIKE 
FiOS1 News Weather Forecast For Long Island
FiOS1 News Weather Forecast For New Jersey
FiOS1 News Weather Forecast For Hudson Valley
LATEST JOESTRADAMUS ON THE LONG RANGE