Snow Saturday Bitter Cold New Year
Snow Saturday Bitter Cold New Year
The weather in the Eastern 2/3rds of the US for this time of year is the coldest in 70 years and even beats late December early January 1977 by a full 2 degrees! We have been below freezing since the late afternoon of Christmas Day and we haven't been above that level since nor will we be for the next 10 days at least. The first shot of bitter air is moving out and now the second shot of bitter air is lining up for Sunday into Wednesday of next week and it is even colder that what we have just seen. In between on Saturday we will have some snow on the order of a coating to a couple of inches. The map above shows the extent of Winter Weather Advisories that have been posted.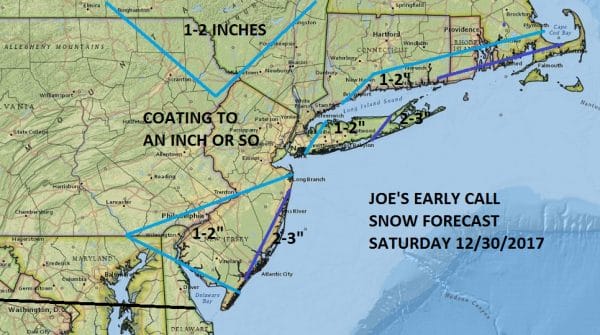 Snow amounts forecast remain the same. A coating to a couple of inches. This was our original forecast and we have changed nothing regarding this. It might be a little higher for parts of Eastern Long Island and Eastern Connecticut. This snow is entirely manageable and the chances for an upside surprise are limited.
SATELLITE LOOP

REGIONAL RADAR

LOCAL RADAR NEW YORK CITY
LOCAL RADAR PHILADELPHIA

There are no issues tonight other than arriving clouds. Most lows tonight will range from the single digits inland to the teens in the warmer urban areas. Snow arrives during the morning Saturday and ends in the late afternoon and evening. Temperatures will be in the 20s Saturday.
TEMPERATURES SHORTLY AFTER MIDNIGHT NEW YEARS EVE
Sunday New Years Eve looks very cold as temperatures settle in the teens and an increasing wind will bring wind chills down to near or below zero. Midnight temperatures at the ball drop will be close to 10. Monday morning lows will be in a general range of 5 below to 5 above. At least Sunday will be dry with some sun. New Years Day looks to be brutal with sunshine and highs just in the teens.

GET JOE A CIGAR IF YOU LIKE 
FiOS1 News Weather Forecast For Long Island
FiOS1 News Weather Forecast For New Jersey
FiOS1 News Weather Forecast For Hudson Valley
LATEST JOESTRADAMUS ON THE LONG RANGE