Snow Possibilities Winter Pattern Developing
Snow Possibilities Winter Pattern Developing
When it became evident that we were seeing the upper pattern evolving into a wintry one, it has been my contention that with a pattern like this, it would be likely that an early snowfall for somebody in our area was going to happen. Today's weather models leave me unchanged in this view. The colder air pattern begins to establish itself beginning on Wednesday after the cold front to our west passes through. The first possibility would come on Friday as a wave develops on the front to our south but I'm actually less concerned with that and more concerned with the second arm of energy that swings in on Saturday. Weather models show that the wave for Friday will be flat and weak. This could keep us in clouds but the bulk of the precipitation will likely be offshore. However a weak less developed first wave leaves room for a second low to develop on Saturday and both the European and the GFS model are going down this particular road.
GFS MODEL FRIDAY THROUGH SUNDAY CLICK TO ANIMATE
What is happening is that energy from the Great Lakes is swinging eastward from the Ohio Valley. The first wave goes out to the northeast but by staying weak, it leaves behind a lot of moisture just to our south and east which then becomes available as the upper trough swings east.
GFS MODEL SUNDAY DECEMBER 10
EUROPEAN MODEL UPPER AIR SUNDAY DECEMBER 10
Both models line up very close with their views for the weekend which brings forecast confidence up. However both models have also been very inconsistent over the last few weeks on a number of different weather issues we have seen so I want to be cautious here. Below is the snow forecast map thanks to WEATHER.US per the European model. Rather than take this literally, we should look at this map as showing us where accumulating snow is possible and not the specific amounts. How much snow is a very short term forecast issue and can't be addressed at this stage of the game
EUROPEAN SNOW FORECAST MAP COURTESY OF WEATHER.US
Beyond what happens this weekend the upper pattern developing is exceptionally cold for this time of year. By the middle of next week the flow of air will be coming straight south from Northern Canada.
GFS TEMPERATURE FORECAST THURSDAY MORNING DECEMBER 14
If the forecast holds with the deep vortex in Eastern Canada, we are likely to see a few days later next week with daytime temperatures not out of the 20s!
MANY THANKS TO TROPICAL TIDBITS FOR THE WONDERFUL USE OF THE MAPS
GET JOE A CIGAR IF YOU LIKE!
FiOS1 News Weather Forecast For Long Island
FiOS1 News Weather Forecast For New Jersey
FiOS1 News Weather Forecast For Hudson Valley
NATIONAL WEATHER SERVICE SNOWFALL FORECASTS
LATEST JOESTRADAMUS ON THE LONG RANGE
Weather App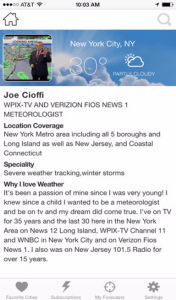 Don't be without Meteorologist Joe Cioffi's weather app. It is really a meteorologist app because you get my forecasts and my analysis and not some automated computer generated forecast based on the GFS model. This is why your app forecast changes every 6 hours. It is model driven with no human input at all. It gives you an icon, a temperature and no insight whatsoever.
It is a complete weather app to suit your forecast needs. All the weather information you need is right on your phone. Android or I-phone, use it to keep track of all the latest weather information and forecasts. This weather app is also free of advertising so you don't have to worry about security issues with your device. An accurate forecast and no worries that your device is being compromised.
Use it in conjunction with my website and my facebook and twitter and you have complete weather coverage of all the latest weather and the long range outlook. The website has been redone and upgraded. Its easy to use and everything is archived so you can see how well Joe does or doesn't do when it comes to forecasts and outlooks.
Just click on the google play button or the apple store button on the sidebar for my app which is on My Weather Concierge. Download the app for free. Subscribe to my forecasts on an ad free environment for just 99 cents a month.
Get my forecasts in the palm of your hand for less than the cost of a cup of Joe!