Snow Overnight Winter Weather Advisory Posted
SHOP THE JOESTRADAMUS STORE
Snow Overnight Winter Weather Advisory Posted
Winter Weather Advisory is now in effect for the Northwest Counties of New Jersey and Eastern Pennsylvania. A Winter Weather Advisory is also in effect for Long Island. It is not in effect for the area in between at the moment. It may seem a bit odd but the thinking is that the snow to the west will weaken somewhat as it comes over the mountains. Long Island is in the advisory area because Long Island may tap a little development of the coastal low and this creates the opportunity for an upside surprise in Suffolk County.
JOE'S SNOW FORECAST FOR THURSDAY MORNING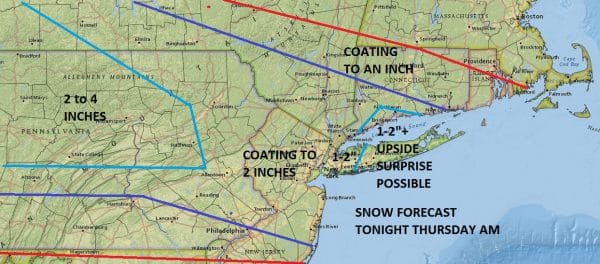 This is my forecast for overnight into Thursday morning. Temperatures will be in the low to mid 20s everywhere so the snow will be powdery. The morning commute could be interesting since the small events often times cause bigger problems with crazy drivers so allow some extra time. Long Island can see an upside surprise. The NAM model satellite radar loop shows the coastal low developing just to the south putting Long Island under a developing area of snow to the north of the low center.
SNOW WINTER WEATHER ADVISORY NAM MODEL LOOP 1AM-7AM
CLICK TO ANIMATE
There are no weather issues this evening or for the first part of tonight. The satellite loop shows the diving system in the Great Lakes. Yesterday's storm to the northeast prevents this from becoming a big snow producer. Snow develops from west to east around 11pm and on Long Island around 1 or 2 am. Snow ends tomorrow morning from west to east between 6am & 10am lasting a bit longer on Long Island which is why the potential exists for an upside surprise especially in Suffolk County.
SATELLITE LOOP

REGIONAL RADAR

Once this system pulls away some sunshine develops Thursday afternoon with highs in the 30s. Then it turns very cold Thursday night into Friday morning with most lows in the teens and single digits. Friday another disturbance moves through with lots of clouds with highs just in the 20s. No snow is forecast from this as the system gets going well to the east. Sunshine is forecast for the weekend with highs both days in the 30s.

GET JOE A CIGAR IF YOU LIKE 
FiOS1 News Weather Forecast For Long Island
FiOS1 News Weather Forecast For New Jersey
FiOS1 News Weather Forecast For Hudson Valley
LATEST JOESTRADAMUS ON THE LONG RANGE