Snow Melts Later This Week But????
Snow Melts Later This Week But????
There is no question that the weather pattern is about to undergo another round of changes this week. We are sitting in the throws of a bitter cold air mass today and tonight in the wake of yesterday's snow. The structure of the upper air jet stream is shifting as the vortex in Canada and trough in the east pulls out and once again the ridge in the Southeast US flexes its muscle. Cold air pulls out and milder air arrives beginning Wednesday and taking us into Friday.
GFS WEATHER MODEL JET STREAM EARLY THIS WEEK CLICK TO ANIMATE
With regards to Tuesday we will see the possibility of some rain or showers later Tuesday into Tuesday night as the warmer arrives. There could be some mix precipitation at the start Tuesday afternoon but other than that, we don't see any issues. Temperatures Wednesday into Friday will be heading into the 50s in many locations.
LONGER TERM WEATHER PATTERN
Next weekend I think we see a few things happening. For one there will be some colder air attempting to move southward from Canada which will allow high pressure to build in from the north. Weather models all seem to want to have something coming out of the south in the form of a wave and overrunning. I think the idea of something next weekend is reasonable but the devil is going to be in the details.
Even though the upper air has a rather warm look to it, there are some subtle things going on that makes things a bit different. In Southeastern Canada we have a disturbance that will be moving through that will allow some colder air to come into the Northeastern US at lower levels. We might see some cold air at the bottom of the atmostphere come back next weekend. Now that could (emphasize could) be a set up for some mixed precip/ice next weekend The GFS model as well as the European and Canadian models last night had this idea on the table.
Sometimes even in what looks like the most unfavorable weather pattern we can at times find ways for odd things to occur. Let's see where this goes over the next few days. This is a weather pattern that does not favor big storms in the classic sense but instead favors weaker overrunning events.
MANY THANKS TO TROPICAL TIDBITS FOR THE WONDERFUL USE OF THE MAPS
SNOW REMOVAL COMPANIES FOR YOUR WINTER NEEDS
             LONG ISLAND                                ROCKLAND COUNTY                   Connecticut
     ROCKLAND COUNTY                         TRI STATE SNOW REMOVAL                           JOHNSTOWN PA
FiOS1 News Weather Forecast For Long Island
FiOS1 News Weather Forecast For New Jersey
FiOS1 News Weather Forecast For Hudson Valley
NATIONAL WEATHER SERVICE SNOW FORECASTS
LATEST JOESTRADAMUS ON THE LONG RANGE
Weather App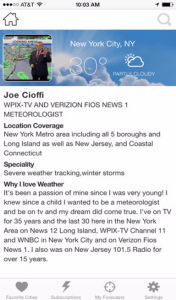 Don't be without Meteorologist Joe Cioffi's weather app. It is really a meteorologist app because you get my forecasts and my analysis and not some automated computer generated forecast based on the GFS model. This is why your app forecast changes every 6 hours. It is model driven with no human input at all. It gives you an icon, a temperature and no insight whatsoever.
It is a complete weather app to suit your forecast needs. All the weather information you need is right on your phone. Android or I-phone, use it to keep track of all the latest weather information and forecasts. This weather app is also free of advertising so you don't have to worry about security issues with your device. An accurate forecast and no worries that your device is being compromised.
Use it in conjunction with my website and my facebook and twitter and you have complete weather coverage of all the latest weather and the long range outlook. The website has been redone and upgraded. Its easy to use and everything is archived so you can see how well Joe does or doesn't do when it comes to forecasts and outlooks.
Just click on the google play button or the apple store button on the sidebar for my app which is on My Weather Concierge. Download the app for free. Subscribe to my forecasts on an ad free environment for just 99 cents a month.
Get my forecasts in the palm of your hand for less than the cost of a cup of Joe!