Snow Ice Friday Night Saturday Early Thoughts
Snow Ice Friday Night Saturday Early Thoughts
With this very cold air mass coming in and pulling out rather fast the issue becomes what happens with the cold high pulls out. We are setting up a strong warm advection situation where we are going from bitter cold arctic air to very warm tropical air in a very short period of time. This will set up a warm front our south like last Sunday. However unlike last Sunday the warm front sets up much further south with cold air more important for a longer period of time. This creates the possibility of a solid band of accumulating snow before it goes to ice and then to rain. We will see temperatures essentially rise from the low teens and single digits Friday morning to the 50s by Sunday morning. Something has to give with such a temperature change and it could be with a front end accumulating snow.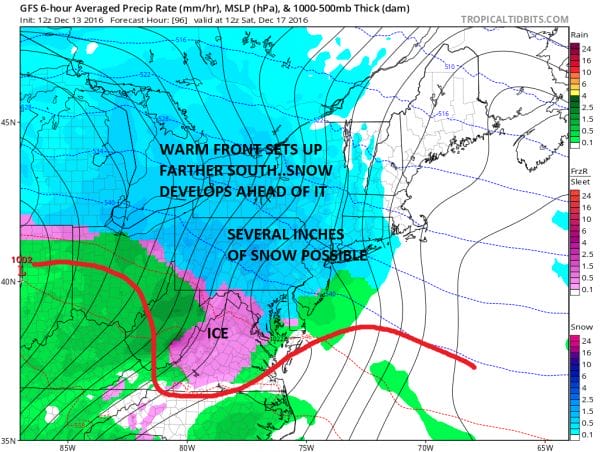 I have situations in the past like this that have produced 4 to 8 inches of snow for some areas. Sometimes even the coast could get a significant snowfall but that is going to depend on how the high moves out and if cold air can get pinched in along the coast for a little while longer. We have no blocking which means that cold air is going to retreat. It is a question of how fast. This will also be a situation where the change over comes in from the southeast and moves northwestward.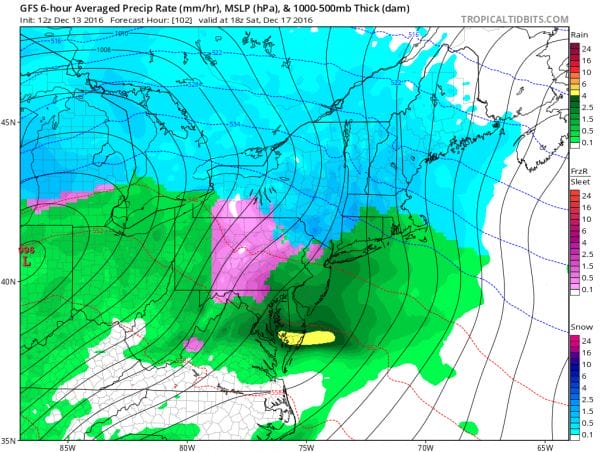 By 1pm the coast has changed to rain. So has much of Connecticut and Rhode Island. Inland areas north and northwest are still at at. Notice the area of icing shifts northward into Central Pennsylvania with rain to the south. This will continue to push northward with not a whole lot of resistence. The GFS model seems a fair compromise between the colder Canadian and the warmer European model. However the European is a little colder and a little more robust with snow amounts.
The Canadian model offers one option where a weak low forms on the warm front and keeps it colder for a little longer. The Canadian still has it snowing at 1pm. This seems a little bit of a long shot to me though not impossible  The outcome may wind up being the same in terms of snow amounts. In any case the change to rain and the rising temperatures into the 50s by Sunday means much of whatever falls will be washed away.
Im not going to make an early call map at this time but I think it is safe to say that a situation like this certainly has the possibility of producing at least several inches for somebody from Pennsylvania to Southern New England and leave it at that for the time being.
MANY THANKS TO TROPICAL TIDBITS FOR THE WONDERFUL USE OF THE MAPS
           SNOW REMOVAL COMPANIES FOR YOUR WINTER NEEDS
             LONG ISLAND                                ROCKLAND COUNTY                   Connecticut

JOHNSTOWN PA 
COLOSIMO LAWNCARE
FiOS1 News Weather Forecast For Long Island
FiOS1 News Weather Forecast For New Jersey
FiOS1 News Weather Forecast For Hudson Valley
NATIONAL WEATHER SERVICE SNOW FORECASTS
LATEST JOESTRADAMUS ON THE LONG RANGE
Weather App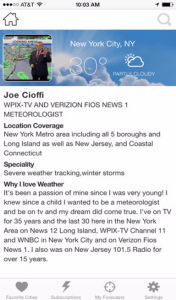 Don't be without Meteorologist Joe Cioffi's weather app. It is really a meteorologist app because you get my forecasts and my analysis and not some automated computer generated forecast based on the GFS model. This is why your app forecast changes every 6 hours. It is model driven with no human input at all. It gives you an icon, a temperature and no insight whatsoever.
It is a complete weather app to suit your forecast needs. All the weather information you need is right on your phone. Android or I-phone, use it to keep track of all the latest weather information and forecasts. This weather app is also free of advertising so you don't have to worry about security issues with your device. An accurate forecast and no worries that your device is being compromised.
Use it in conjunction with my website and my facebook and twitter and you have complete weather coverage of all the latest weather and the long range outlook. The website has been redone and upgraded. Its easy to use and everything is archived so you can see how well Joe does or doesn't do when it comes to forecasts and outlooks.
Just click on the google play button or the apple store button on the sidebar for my app which is on My Weather Concierge. Download the app for free. Subscribe to my forecasts on an ad free environment for just 99 cents a month.
Get my forecasts in the palm of your hand for less than the cost of a cup of Joe!