DOWNLOAD MY NEW FREE JOESTRADAMUS WEATHER APP FOR ALL DEVICES
THE APP IS ABSOLUTELY FREE TO ALL BUT CONSIDERING SUBSCRIBING TO PATREON FOR A WEATHER EXPERIENCE FREE OF ADS, EXCLUSIVE VIDEOS FOR MEMBERS ONLY AND MUCH MORE…STARTS AT $2 A MONTH..MESSAGE ME AT ANY TIME
Snow Freezing Rain Sleet Rain System 2 Monday Night Tuesday
This is the forecast outlook for the second and more important weather system that is coming for Monday night & Tuesday. For a look at the first weather system for tonight and Monday morning you can check the post from earlier today.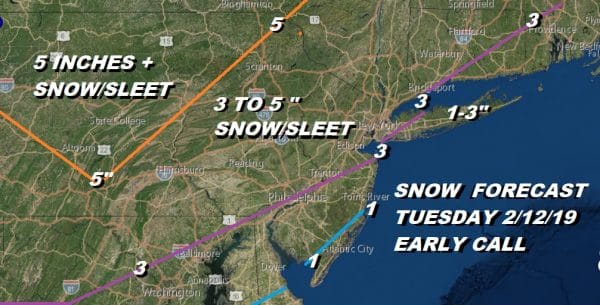 This is the early call forecast for the second weather system for Monday night into Tuesday. I made this Saturday morning and for now will leave things unchanged. The tough part of this forecast is figuring out how much of this falls as snow and how much falls as sleet because that will impact the accumulation numbers. We have the added variable of cold air to the north that will be pressing southward as warmer air pushes northward; first aloft and then at the low levels. Also the question for areas inland of the coast is the stubborn cold air not getting dislodged quickly at the lower levels of the atmosphere.
This NAM model loop is from 1pm Monday through 7PM Tuesday. Blue is snow, purple is sleet, red is freezing rain and green is rain. This is going to change over to rain before it is all said and done for all areas by the time it is all done Tuesday night.
The colder NAM model is the slowest in advancing that 32 degree line northward. At 1pm Tuesday it runs from just south of NYC southwestward to Southeast Pennsylvania as it gets pinned southward due to the colder high to the north. Is this a correct depiction of low level temperatures? That is the key variable here. Meanwhile at the 4700 foot level (850 mb) the freezing line is further north.
The blue area is below freezing (snow) and that line has just moved north of NYC by 1pm which means a change over to sleet is taking place by then. That freezing line advances well north into the Hudson Valley by 7pm. How much sleet falls and how does it impact total forecast amounts is almost impossible to figure out at this point. The best course is to remain with the current forecast for amounts and then we will adjust again later Monday when we have a better handle on how the bottom of the atmosphere is going to behave. One thing is certain is that it will eventually change to rain for most areas and much of what falls likely gets washed away especially along coastal areas.
MANY THANKS TO

TROPICAL TIDBITS

FOR THE USE OF MAPS
Please note that with regards to any tropical storms or hurricanes, should a storm be threatening, please consult your local National Weather Service office or your local government officials about what action you should be taking to protect life and property.