DOWNLOAD MY APP FOR FREE & CONSIDER JOINING PATREON

THE APP IS ABSOLUTELY FREE TO ALL BUT CONSIDERING SUBSCRIBING TO PATREON FOR A WEATHER EXPERIENCE FREE OF ADS, EXCLUSIVE VIDEOS FOR MEMBERS ONLY AND MUCH MORE…STARTS AT $2 A MONTH..MESSAGE ME AT ANY TIME
Snow Forecasts National Weather Service Updated Tuesday 01292019
Winter Storm Watches are up for Northeastern Pennsylvania northward up the Catskills into Northern New York. The watches in the Hudson Valley lie west of the Hudson River. We also have Winter Storm Watches up for a large area from Southeastern Kentucky and Southwest Virginia southward into Western North Carolina and Eastern Tennessee as well as Northwest Georgia, Northern half of Alabama into Mississippi with Winter Weather Advisories surrounding these areas.
For most of this area it is a race between the cold air and the precipitation. In some areas the cold air wins and arrives while precipitation is still falling. In other areas the precipitation either shuts off first or shuts off shortly after the cold air arrives leaving very little. In some areas it is not an issue where cold air is already present and it is just snow from start to finish. Good luck snow lovers.
SNOW FORECAST MAPS
New York City, Ne NJ, HV, LI, Coastal Ct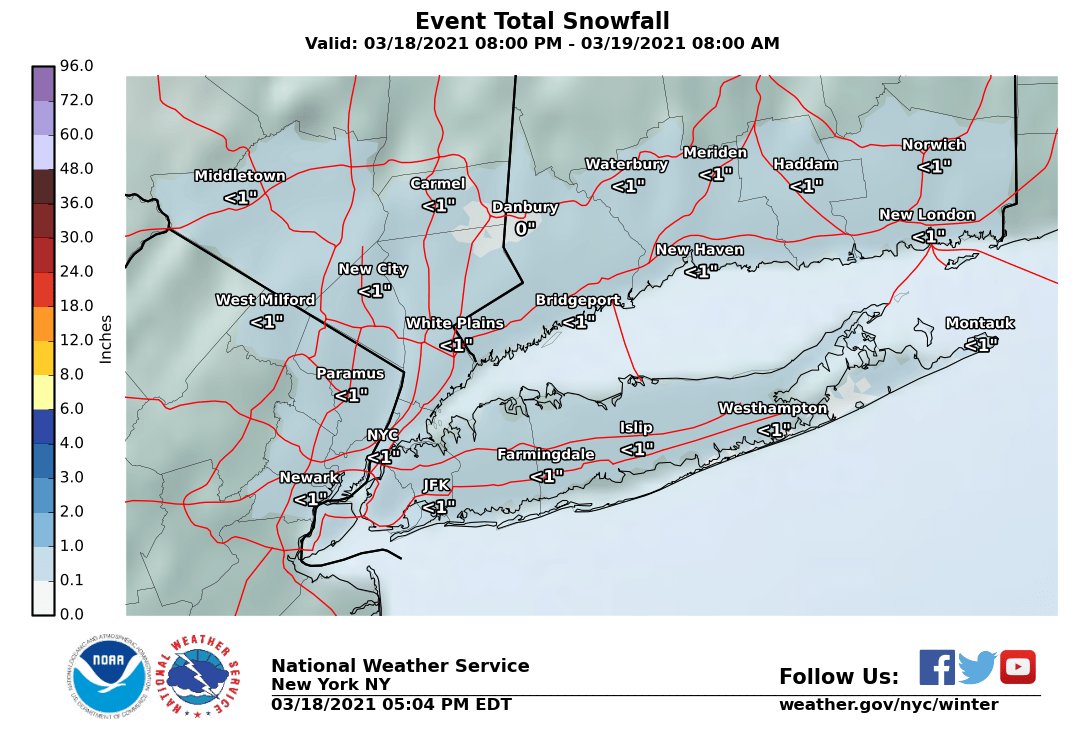 In the NYC are and nearby the coast is going to be under the gun as cold dry air will come in just as the precipitation is moving out so amounts are lower near the coast. Inland north and west there will be more time to work with and here amounts are higher.
NEW JERSEY & PARTS OF NE PA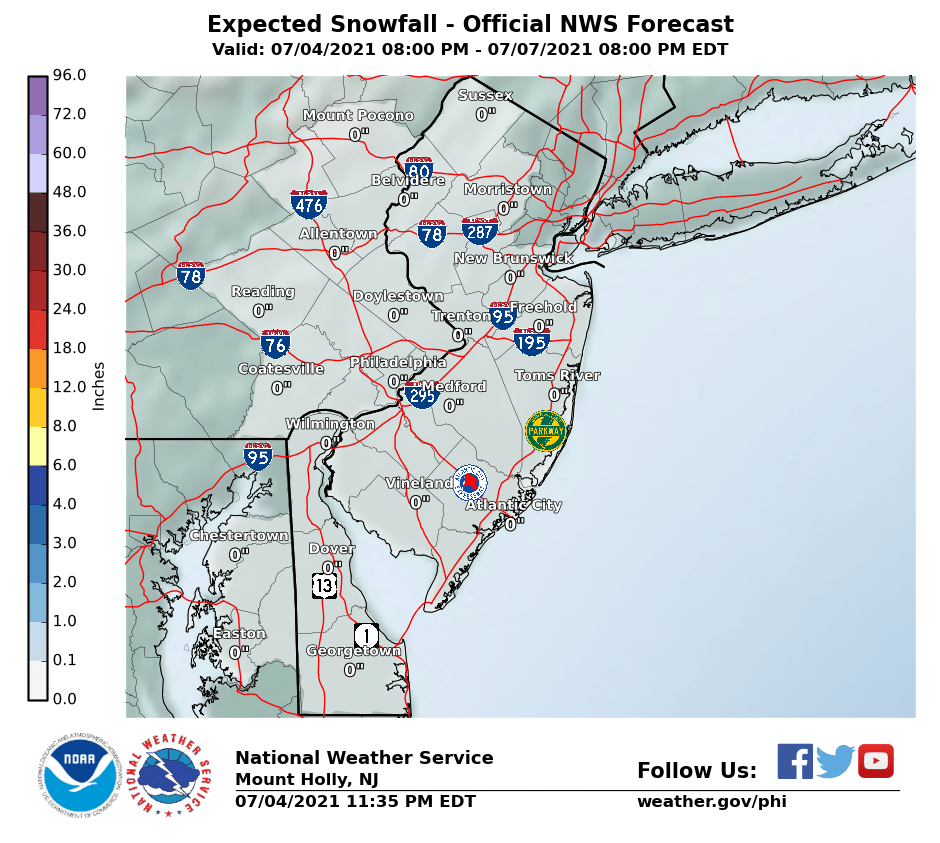 For New Jersey and Northeastern Pennsylvania we have the coast where here too the cold dry air will be coming in just as the snow is pulling out. Amounts are low south and east of the New Jersey turnpike. Amounts increase as we near the Pennsylvania state line and increase. The system is north south in orientation so it s quite possible that Philadelphia sees a few inches from this while NYC gets very little. In Northeast Pennsylvania some models point to this as the jackpot zone with 6 inches plus being indicated by the National Weather Service.
SOUTHERN AND SOUTHEAST NEW ENGLAND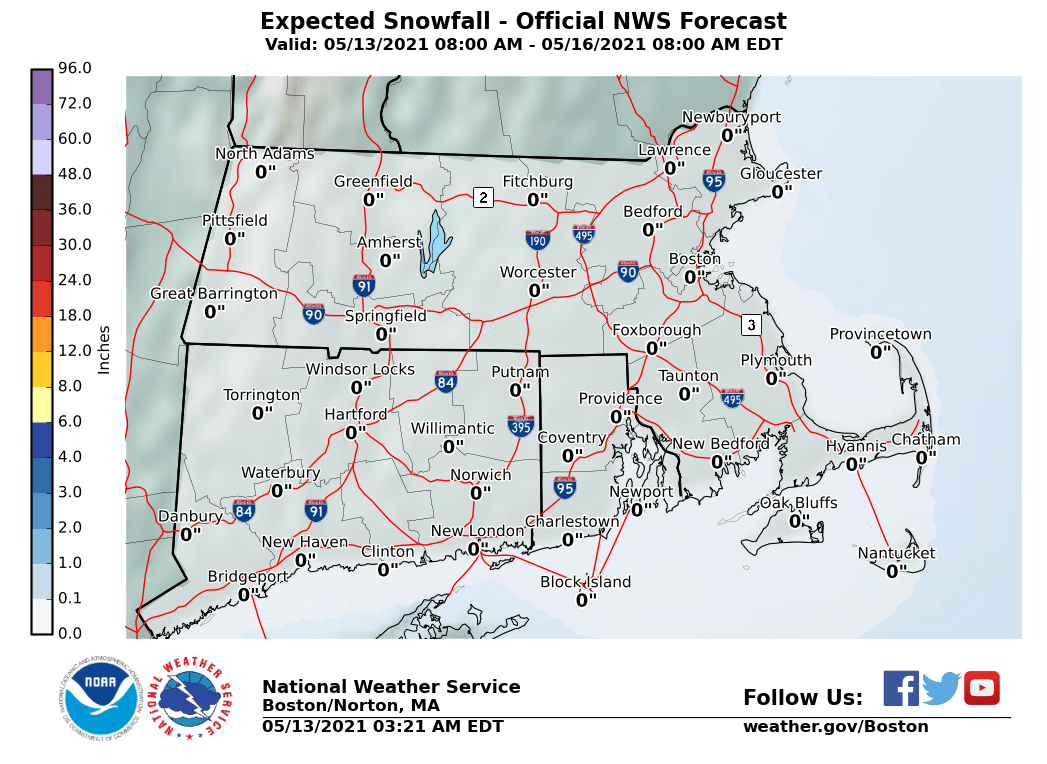 In Southeast New England where the snow drought continues here the warm air could be too overwhelming and amounts decrease substantially as you go south of Route 95. They go up north of Route 84 with the highest amounts west and northwest of Boston.
NORTHERN NEW ENGLAND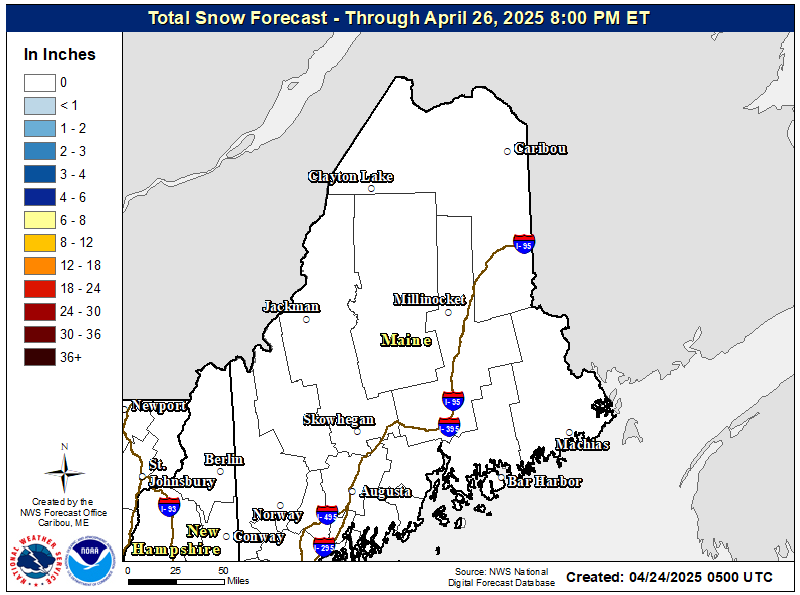 Well after all it is Northern New Hampshire and Maine where it is all snow and eventually Winter Storm Watches and likely warnings will go up for Tuesday night into Wednesday once this whole thing plays out. The lower amounts will be Southern Maine along the coast and in the Southeast part of the state but here at least 4 inches will accumulate which are flurries by Maine standards.
For Northern and Northeast NY as well as much of Vermont it is a 6 to 8 inch forecast. Winter Storm Watches are up for Northeastern NY and we will likely see more watches go up Monday for much of this area.
MIDDLE AND UPPER HUDSON VALLEY
This could very well be another jackpot zone with Winter Storm Watches for areas west of the Hudson and also as you go east into the Bershires in Massachusetts. Lower amounts in between and southward into Litchfield County in Connecticut down to about Route 84. Winter Storm Watches are up from the Catskills northward mainly west of the Hudson River.
CENTRAL NEW YORK & NE PA
Another jackpot zone here for areas going north along I-81 with 8 to 12 inches forecast. Lower amounts as you head westward and then southward toward the Pennsylvania state line. Some jackpot amounts are forecast for Northeast Pennsylvania as well.
Amounts decrease in the widespread snow forecast elsewhere as we moVe into Western NY but in the dark blue shaded areas is where we get to see some lake effect snow amounts. NOTE THE TIME STAMP HERE AS THIS MAP IS LIKELY TO BE UPDATED.
CENTRAL & SOUTH CENTRAL PA
This area in Central Pennsylvania will see higher amounts as you head north with the northeast portion this forecast zone just on the edge of the higher amounts being forecast for Northeast Pennsylvania. Timing of the rain to snow in the southern part of this zone will be critical to total snow amounts.
VIRGINIA & MARYLAND
For this area this is another example of where Washington DC & Baltimore could wind up with more snow than NYC due to the north south orientation of the front and the placement of a wave on that front however weak it may be. Highest amounts will be north and northwest of the big cities with less to the southeast and along the coastal areas.
SNOW FORECAST MAPS ACROSS THE SOUTH
WESTERN VIRGINIA INTO WESTERN NORTH CAROLINA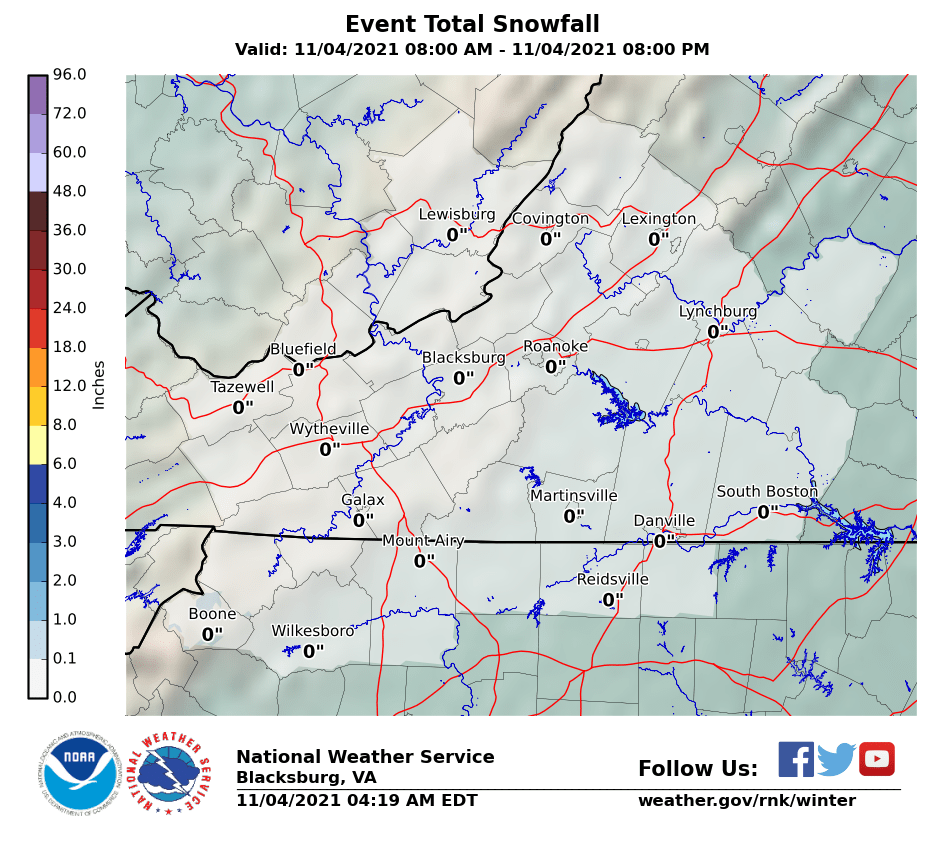 Here we deal with the criteria for Winter Storm Watches being lower than in other areas so the amounts being forecast are lower. Much of this area saw a foot plus back in December so this should pale by comparison. The combination of a few inches of snow and the rapidly falling temperatures will create some rather nasty travel conditions for the mountains.
DAILY NORTHEAST SNOWFALL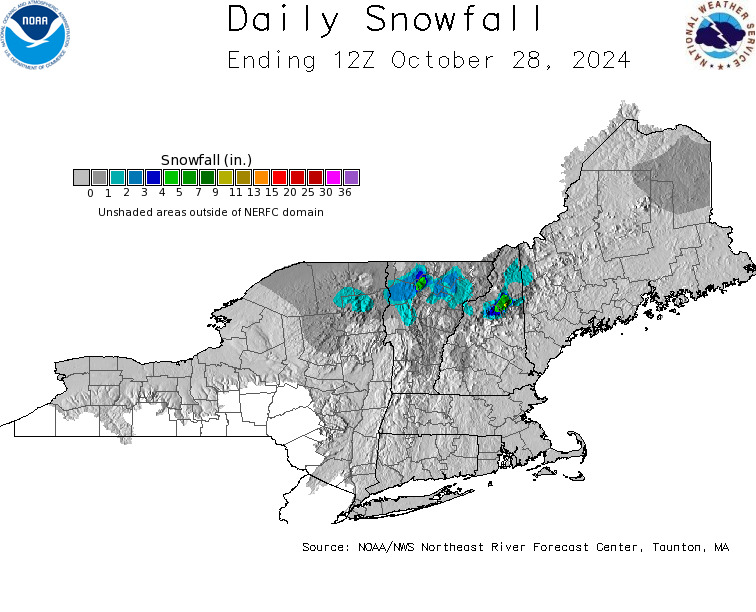 Please be advised that these are National Weather Service Forecast Maps and they auto update. Each office may update at different times and some offices are slower to update then others. Maps are usually updated before 5am and & 5pm however they may be updated at other times depending on forecast conditions. These are not my forecasts. My forecasts can be found on the JOE'S SNOWFORECAST PAGE. Individual forecasts for specific areas may also be found when conditions warrant on the my area forecasts. Those can be found on the website menu. Click on forecasts and then select your specific area.