DOWNLOAD MY NEW FREE JOESTRADAMUS WEATHER APP FOR ALL DEVICES
THE APP IS ABSOLUTELY FREE TO ALL BUT CONSIDERING SUBSCRIBING TO PATREON FOR A WEATHER EXPERIENCE FREE OF ADS, EXCLUSIVE VIDEOS FOR MEMBERS ONLY AND MUCH MORE…STARTS AT $2 A MONTH..MESSAGE ME AT ANY TIME
Snow Forecast Wednesday 2/20/2019 Joe's Early Call
We are looking ahead here to the next weather system for Wednesday which looks to be another snow to sleet to rain event. It does in many ways look similar to what we saw last Tuesday but these systems never rhyme exactly and this one doesn't There are some notable differences in how this all plays out which leads to a rather unusual looking snow forecast map for my early call. You will notice that the higher amounts will be to the south and less to the north. This is a bit unusual for a weather system that is bringing precipitation up and down the coast.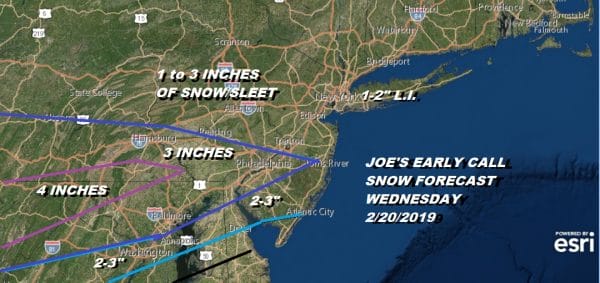 We are forecasting broad area of 1 to 3 inches from Northeast Pennsylvania to Central New Jersey to the Hudson Valley & Southern New England. Higher amounts will push in from Northern Virginia to parts of South Jersey. The highest amounts (the 4 inch zone) pushes northeast into Southern Pennsylvania. The reason for this is the structure of the approaching system. You will also note that my forecast amounts are far lower than some of the other forecasts that are out there.
From the looks of things the setup like last Tuesday is almost the same. The differences lie in that this is a weaker system overall. Cold air will be wedged southward as the precipitation arrives early Wednesday in the Middle Atlantic States letting it snow and sleet there for a longer period of time. The issue is the high to the north which slides out east allowing warming to take place faster in areas to the north. The precipitation moves northward Wednesday afternoon and evening so that by the time it gets there, the cold air will be eroding quickly allowing for only a few hours of snow to sleet and then to rain.
By 1am Thursday the rain snow line has pushed up int Central New England at this point. For snow amounts to be higher in the north this system has to come out faster than is currently being modeled. We are not banking on this idea at this early stage.. All of this comes to an end ealry Thursday and we will be finishing off the week on a warm note. We should see temperatures reach the 50s to near 60 by Friday.
MANY THANKS TO

TROPICAL TIDBITS

FOR THE USE OF MAPS
Please note that with regards to any tropical storms or hurricanes, should a storm be threatening, please consult your local National Weather Service office or your local government officials about what action you should be taking to protect life and property.