Snow Forecast Thursday Possibility
NEW YORK CITY AND VICINITY SNOW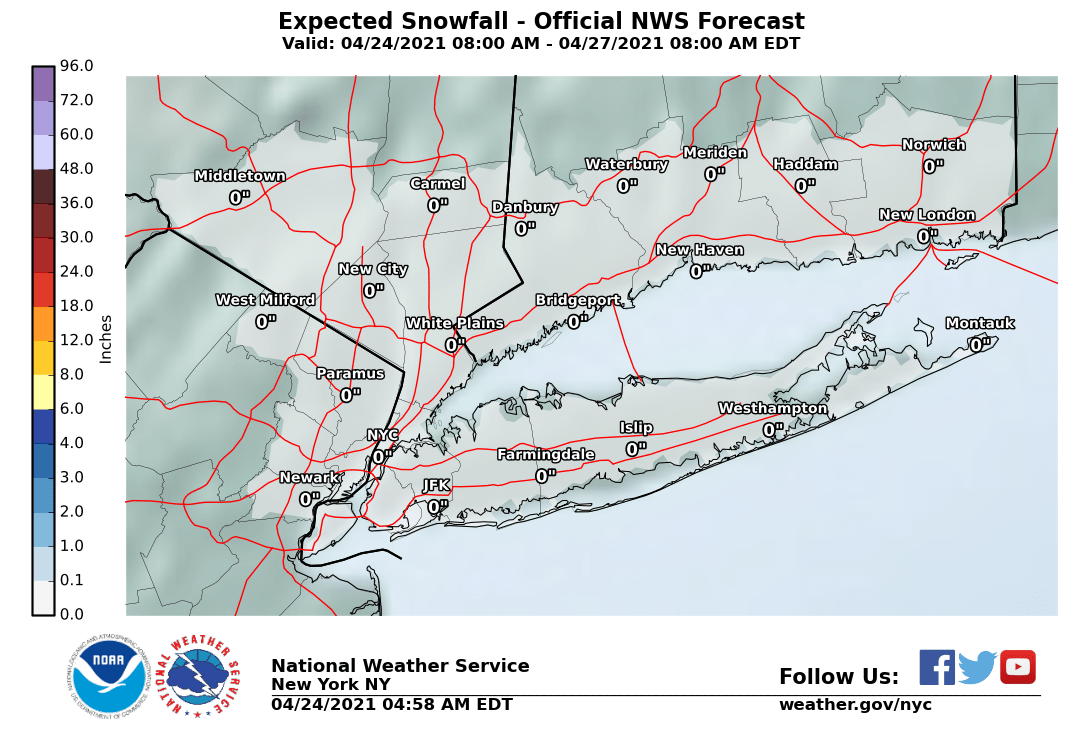 Snow Forecast Thursday Possibility
The National Weather Service in Upton NY which forecasts for the NYC Northern New Jersey area seems to be trying to get a jump on whatever happens here on Thursday with regards to low pressure developing to our south as a cold front moves through. Afternoon weather model runs show that wave deepening and it might be enough to produce nor'easter conditions for parts of New England. Unless the wave really gets going further south and intensifies rapidly, this should not be an issue for us. However the possibility of that happening however small is there and we will continue to monitor the progress of weather models on this over the next 2 days. Remember it is far more likely to see something pop up here at the last minute rather than seeing it out 10 days in time.
All the models seem to line up close with this developing wave and you notice on the NAM model that it deepens the low considerably as it heads toward Boston. Literally taken here of course it would not be an issue here but again with the North Atlantic Oscillation approaching neutral and going negative I want to watch this carefully in case there is some sort of last minute surprise.
Meanwhile this evening temperatures in Northwest New Jersey and the Hudson Valley are having a tough time getting above freezing.  The warm front to the south will make headway overnight but in some areas to the north it may not be until after midnight before temperatures rise above 32 so be cautious on roadways if travelling north and north west of Route 84. Freezing rain advisories are posted for those areas.


Radars are showing some scattered activity but there is also drizzle that the radar is not picking up. We will see some steadier showers later tonight as long as they hold together. They should be out around daybreak and then we will dry out with increasing amounts of sunshine Tuesday. Temperatures could reach the mid to upper 50s before colder air takes over Tuesday night and Wednesday. Wednesday we will see sunshine and some passing clouds but highs will be in the cooler low to mid 40s. Then we deal with Thursday's weather system before it turns colder for Friday and Saturday.
Right now New Years Eve looks dry but there will be a weak warm front nearby Saturday that could produce some light rain or snow when the ball drops at midnight. Longer range still shows a colder trend over time. Here is JOESTRADAMUS with his latest video analysis.
SNOW REMOVAL COMPANIES FOR YOUR WINTER NEEDS
             LONG ISLAND                                ROCKLAND COUNTY                   Connecticut
FiOS1 News Weather Forecast For Long Island
FiOS1 News Weather Forecast For New Jersey
FiOS1 News Weather Forecast For Hudson Valley
LATEST JOESTRADAMUS ON THE LONG RANGE
Weather App
Don't be without Meteorologist Joe Cioffi's weather app. It is really a meteorologist app because you get my forecasts and my analysis and not some automated computer generated forecast based on the GFS model. This is why your app forecast changes every 6 hours. It is model driven with no human input at all. It gives you an icon, a temperature and no insight whatsoever.
It is a complete weather app to suit your forecast needs. All the weather information you need is right on your phone. Android or I-phone, use it to keep track of all the latest weather information and forecasts. This weather app is also free of advertising so you don't have to worry about security issues with your device. An accurate forecast and no worries that your device is being compromised.
Use it in conjunction with my website and my facebook and twitter and you have complete weather coverage of all the latest weather and the long range outlook. The website has been redone and upgraded. Its easy to use and everything is archived so you can see how well Joe does or doesn't do when it comes to forecasts and outlooks.
Just click on the google play button or the apple store button on the sidebar for my app which is on My Weather Concierge. Download the app for free. Subscribe to my forecasts on an ad free environment for just 99 cents a month.
Get my forecasts in the palm of your hand for less than the cost of a cup of Joe!