Snow Forecast Saturday 12092017 Early Call
SHOP THE JOESTRADAMUS STORE
Snow Forecast Saturday 12092017 Early Call
The first snow forecast is always the toughest and of course these things are never easy. Firstly we will look at what is going on at the moment which is the cloud cover has cleared the coastline and skies are nice and sunny as dry air moves in from the northwest. However you can see the moisture and clouds just to the southwest is buckling northward and we may see some clouds come back this evening and for the first part of tonight. This is the front from last night stalling and a stream of subtropical moisiture moving eastward across the Deep South. Temperatures have settled in the 40s and overnight as skies are at least partially clear we should see lows in the mid 20s to lower 30s in most places though clouds could impact these temperatures in either direction depending on how long they last.
SATELLITE LOOP

REGIONAL RADAR

Radars are no longer an issue through Friday. Thursday looks mostly sunny with highs in the low to mid 40s. Friday looks nice for most of the day before clouds start to arrive late in the day. Highs Friday will be in the upper 30s to lower 40s.
JOE'S SNOW FORECAST FOR SATURDAY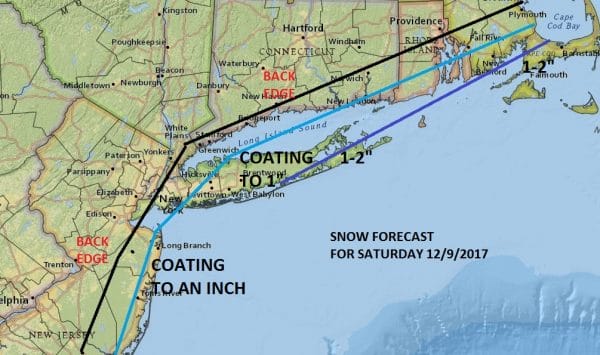 For now we are going to stick with the same idea we had yesterday which was that any snow will be confined to the coast and that this event will be minor as the low moves northeast offshore and mositure gets suppressed to the south and east. This idea is supported by the European & GFS model runs today. The Nam and Canadian model have a stronger southern stream feature that holds together as it lifts northeastward. The other models squash this as energy in the north overwhelms everything. This is the reason why those models have a much more aggressive snow fall and have the back edge of the snow much further north and west.
SNOW FORECAST NAM MODEL SURFACE FORECAST SATURDAY 7PM
One thing that makes us nervous is the fact that we have seen several instances in the last month with stalled fronts where waves wound up much further north and west. The rain the day before Thanksgiving stands out as one of these instances that went from nothing to over an inch of rain along some coastal areas so we are going to be cautious here until we can rule out the possibility of a northwest shift.

GET JOE A CIGAR IF YOU LIKE 
FiOS1 News Weather Forecast For Long Island
FiOS1 News Weather Forecast For New Jersey
FiOS1 News Weather Forecast For Hudson Valley
LATEST JOESTRADAMUS ON THE LONG RANGE
NEW YORK WEATHER</stron