Snow Forecast Maps Tonight & Sunday
GET JOE A CIGAR!
Snow Forecast Maps Tonight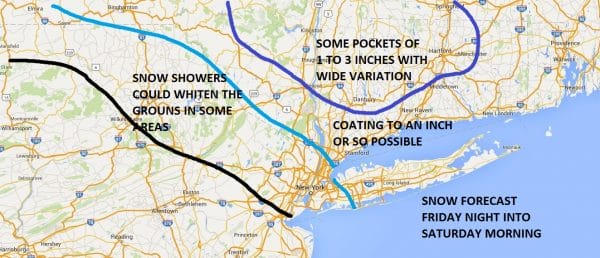 Tonight's snow forecast map is up above and this is a minor event with a warm front moving through. The map below is the snow forecast map for Sunday which is a tough forecast because there are several variables to consider.
SNOW FORECAST FOR SUNDAY
Sunday's forecast hinges on a storm system moving across Southern Pennsylvania and redeveloping along the New Jersey coast. 2 factors that will be important include the deep snow cover which will keep ground temperatures colder and trap cold air at the surface. The second is cold air bleeding southward from Northern New England. My forecast at this point may be considered a bit aggressive but I'm thinking that the atmosphere might be a little colder than everyone thinks.
Satellite loop tonight shows clouds and you can see on the radars that we do have some light snows showing up though how much reaches the ground is an issue. There will be pockets of a coating to an inch or so that occur while some areas tonight see nothing at all.
SATELLITE LOOP

REGIONAL RADAR

LOCAL RADAR NEW YORK CITY
LOCAL RADAR PHILADELPHIA

With regards to Sunday we should start to get a little clarity on Saturday but the critical issue of temperatures at the bottom part of the atmosphere will be with us right through the event on Sunday. This all comes to an end Sunday evening and as this Pennsylvania system deepens into a major storm on Monday off the coast of Maine, we will see strong gusty northwest winds and colder air returning.
There is the potential for another storm later next week but models as always at conflict and JOESTRADAMUS attempts to resolve the conflict in his latest post.
SNOW REMOVAL COMPANIES FOR YOUR WINTER NEEDS
             LONG ISLAND                                ROCKLAND COUNTY                   Connecticut
     ROCKLAND COUNTY                         TRI STATE SNOW REMOVAL                           JOHNSTOWN PA
FiOS1 News Weather Forecast For Long Island
FiOS1 News Weather Forecast For New Jersey
FiOS1 News Weather Forecast For Hudson Valley
LATEST JOESTRADAMUS ON THE LONG RANGE
Weather App