Snow Forecast Friday 03012017
GET JOE A CIGAR IF YOU LIKE
Snow Forecast Friday 03012017
 The severe weather focus for today is part of the highly volatile pattern we are in and from temperatures near 70 today we are headed down into the teens by Saturday morning. One more front with a wave on it is poised to bring with it some snow for Friday. Weather models have been all over the place with this from nothing to something to back to nothing back to something. We can say that this is a limited system from the standpoint of snow and that i will be in the order to a coating to maybe a couple of inches for somebody. However it appears that this falls during the day on Friday which means the sun angle will be at play, temperatures will will likely be in the upper 20s and lower 30s and falling later in the afternoon. I would think that main roads even with a coating to a couple of inches would be fine.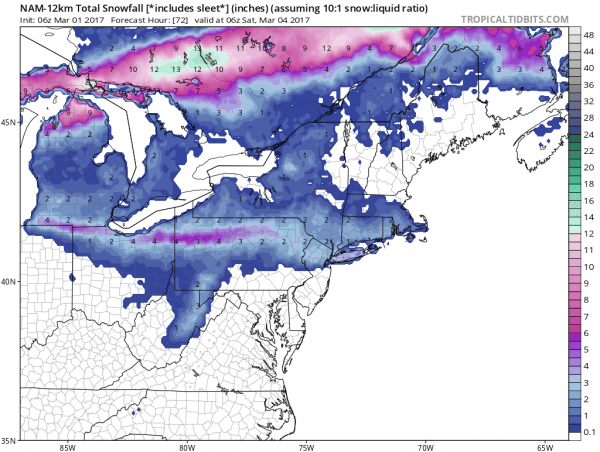 Once again this will be snow for areas along and north of Route 78 in New Jersey and Pennsylvania with 1 to 3 inch snows for Northern New Jersey, Long Island, NYC, the Hudson Valley and Connecticut. This would be from Friday morning 7am to later Friday afternoon 4pm. For Long Island and points east I would watch the low and the radar because there is always the chance of a little ocean enhancement of the snow late in the afternoon which is what the models are hinting at. The GFS model is a bit further south with its view and would bring snow down to at least Route 195.
There is plenty of time to watch this and I will be putting up my snow forecast map later today.
The maps below are the National Weather Service forecast snow maps with the most likely snowfall prediction.