Snow Forecast 12092017 Weather Models No Changes
SHOP THE JOESTRADAMUS STORE
Snow Forecast 12092017 Weather Models No Changes
I'm making no changes in the forecast after looking at all the weather models this afternoon. Precipitation is advancing fairly quickly northeast and is actually in view on the local radars though much of it aloft. Just to the south in Virginia however we have an expanding area of rain with wet snow to the west and this will be advancing northward tonight.
SATELLITE LOOP

The satellite loop shows the loaded subtropical jet to the south and you can see the clouds have pivoted to a more southwest northeast direction. To the northwest the upper trough in the northern jet stream is dropping southward in the Western Great Lakes and it is beginning to swing around and lift the subtropical moisture northward.
REGIONAL RADAR

LOCAL RADAR NEW YORK CITY
LOCAL RADAR PHILADELPHIA

For the rest of this afternoon high clouds will be overhead. Some renegade snow showers could possibly move into parts of South Jersey and Southeastern Pennsylvania going into this evening but the main area will arrive overnight in South Jersey and reach NYC and Long Island around daybreak. Then it spreads north and northeastward into the Hudson Valley and Connecticut.
NAM SNOW FORECAST MAP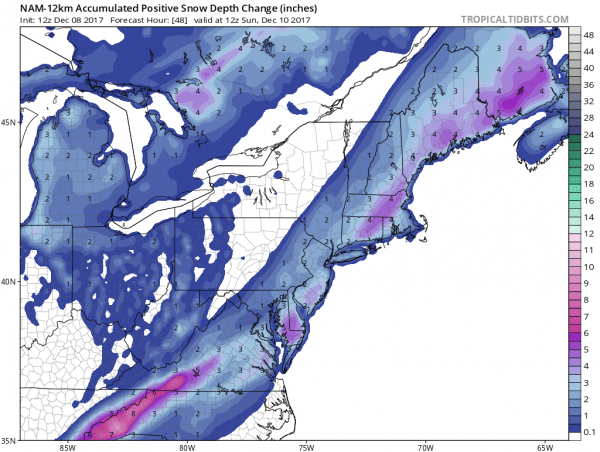 I like the more conservative NAM model view on snow accumualtions. This map takes into account any melting that occurs with marginal temperature conditions and is roughly 1/2 of what the NAM model snowfall map (10-1 ratio) shows.
NAM MODEL SNOW FORECAST 10-1 RATIO
The gap in between the area of heavier snow in South Jersey & the heavier snow in New England could be that the regions that get the heavier snow get it during the nighttime hours where melting may be much less if any at all in some places. I think the more conservative map with a general 3-5 inch snowfall seems to make the most sense to me at this point.
The other issue is mixing and whether that comes into play along the immediate coast. I think some mixing or even a brief change to rain is possible over Eastern Long Island but that will hinge on wind direction. Latest GFS model runs show more of a north wind on Saturday for Long Island which may keep any mixing to the east at a minimum. Along the New  Jersey shore the wind direction will be north northeast or north all day and that should keep things mostly snow even at the beaches.
Snow ends west to east Saturday night and Sunday we will see some sunshine with highs in the 30s. Monday looks dry with some sunshine and highs in the upper 30s and lower 40s.

GET JOE A CIGAR IF YOU LIKE 
FiOS1 News Weather Forecast For Long Island
FiOS1 News Weather Forecast For New Jersey
FiOS1 News Weather Forecast For Hudson Valley
LATEST JOESTRADAMUS ON THE LONG RANGE