Snow Ending Record Cold Tonight Into Thursday Morning
Our arctic front is offshore and temperatures have already dropped 25 degrees or more from where they were overnight and early this morning. We saw the rain change to some light snow on the backside which was of little consequence for most. A gusty wind should dry off the roads fast so there shouldn't be any icing issues tonight. However clouds are still around this evening. The back edge is rapidly moving east and skies will clear, temperatures will fall down to record lows Wednesday morning in the teens to lower 20s. Wind chills will make it feel like it is in the low teens to single digits tonight so bundle up if you are headed out!
SATELLITE

REGIONAL RADAR

Radars are showing the last of the precipitation along the coast and moving out to the east. We should see activity on the local radars shut down soon and they will be on the quiet side through early Thursday.
LOCAL RADAR NEW YORK CITY
LOCAL RADAR PHILADELPHIA

Wednesday is going to be a very cold day indeed with ineffective sunshine and temperatures that will probably finish in the upper 20s to middle 30s for highs. We could see record low "high temperatures" set tomorrow. Some of these records have stood for over 100 years!.
The cold high moves into New England Thursday which means we will probably see another round of very cold temperatures Wednesday night into Thursday morning with lows in the teens to near 20 inland and mid 20s along the coast. Skies should be clear all night with light winds.
Thursday the high moves out off th New England coast. This sets up an onshore flow. We might start with some sun but warmer moist air will overrun the remaining cold air at the surface and likely cause clouds to develop. This will keep temperatures down with highs into the 40s along the coast and only in the upper 30s and lower 40s inland. Im wondering whether we could see some spotty drizzle develop along the immediate coast but we will leave that for tomorrow when we can get a better idea on this.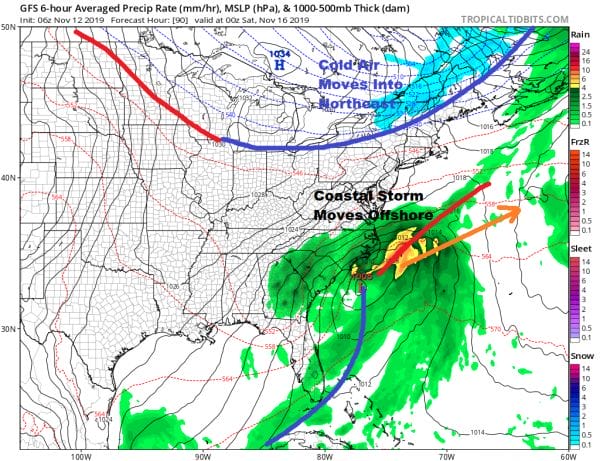 The onshore flow doesn't last as the high moves out. A storm is going to develop off the southeast coast and this would be an issue here except that we have another cold front dropping in from Southeast Canada. We will be in between the two systems on Friday so with some sun breaking through the clouds we should reach upper 40s and lower 50s. Then the front passes and suppresses the storm to the southeast. We turn colder again with lows in the 20s Saturday morning along the coast and teens inland.
The next high builds into New England this weekend and that will keep the gale center off the southeast coast and prevent it from moving northward however we will have a northeast flow of cold air to contend with. Both weekend days will be chilly with highs on Saturday probably not out of the 30s and only back into the 40s on Sunday. Fortunately the moisture stays well south however clouds could be an issue at some point with the wind off the ocean.
Longer range no storms are in the cards for next week however the longer term pattern toward the end of the month and going into December looks like it could be interesting. We will address this in a long range post later today or Wednesday on my weather platform on PATREON.
Please note that with regards to any severe weather,  tropical storms, or hurricanes, should a storm be threatening, please consult your local National Weather Service office or your local government officials about what action you should be taking to protect life and property.