Snow Developing Tuesday Snow Forecast 01172018
Snow Developing Tuesday Snow Forecast 01172018
As of now my snow forecast above is for later Tuesday into Wednesday. Confidence level is low on amounts though I do think we will see some snow here for later Tuesday into Tuesday night. This morning the weather system in question is swinging through the Great Lakes and its influence extends all they way south into Texas. So far there are no Winter Storm Watches posted for our area though I think there is a chance we could see them posted for eastern parts of the Hudson Valley & Connecticut north of Route 84.
Today there are no serious weather issues to deal with other than clouds which have run out ahead of the main area of low pressure to the west. Temperatures this morning hit the bottoms in the teens and single digits. Clouds may help keep temperatures mostly in the 20s today. No snow is forecast today or tonight so if you have travel plans on this Monday given the holiday then go right ahead with them.
US SATELLITE

REGIONAL RADAR

Tonight we will see clouds holding on and as a result temperatures probably won't fall much below the mid teens to lower 20s. The on Tuesday we will watch as low pressure develops to the south with a blossoming area of moisture that develops right along the coast and inland. Warm air will be trying to push in from the ocean but it will have a tough fight on its hands with cold air trying to hang on. The latest NAM model run offers a bit of a double edge sword in that it has a warmer look near the coast (which I am not certain of) and this actually enhances the precipitation inland.
NAM MODEL ACCUMULATED PRECIPITATION THROUGH 10AM WEDNESDAY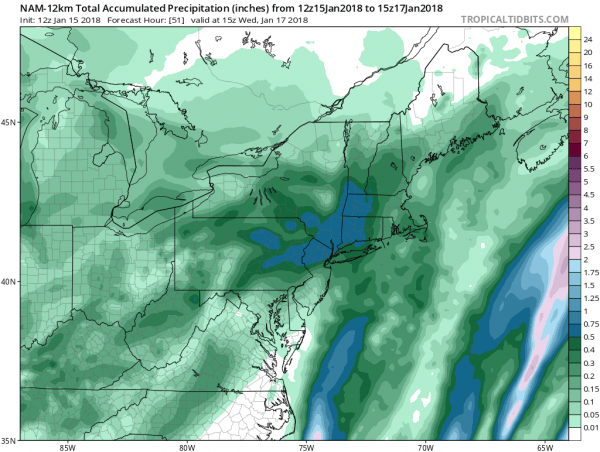 The  blue area on the map is 1/2 inch of liquid precipitation or more which would be roughly about a 6 inch snowfall if it verifies. This is where I have a general 3-5 inch snow forecast at least for now. Snow develops during the afternoon Tuesday with the accumulating snow Tuesday night into Wednesday morning before it moves out to the east.
Along the coast for Long Island to about NYC if it mixes with rain for awhile (and it might) it should change to snow overnight into Wednesday morning and you could make it up on the back side as the low pulls away to the east. Later Wednesday weather conditions improve though it will be cold and dry for the rest of the week. Then we warm up for the weekend with temperatures in the 40s at least.

GET JOE A CIGAR IF YOU LIKE 
FiOS1 News Weather Forecast For Long Island
FiOS1 News Weather Forecast For New Jersey
FiOS1 News Weather Forecast For Hudson Valley
LATEST JOESTRADAMUS ON THE LONG RANGE