DOWNLOAD MY NEW FREE JOESTRADAMUS WEATHER APP FOR ALL DEVICES
THE APP IS ABSOLUTELY FREE TO ALL BUT CONSIDERING SUBSCRIBING TO PATREON FOR A WEATHER EXPERIENCE FREE OF ADS, EXCLUSIVE VIDEOS FOR MEMBERS ONLY AND MUCH MORE…STARTS AT $2 A MONTH..MESSAGE ME AT ANY TIME
Snow Chances Next Week Uncertainty Continues
Before we get to the snow chances beginning Sunday night, lets look at the trip on the way there. Regional and local radars are loading up now as rain is coming in from the west. Yesterday's cold front is stalled out to the south and this is going to create raw damp conditions overnight and Thursday. The rain comes in from west to east this evening and then it rains until shortly before daybreak. Temperatures will hold in the lower 40s and they might drift down into the upper 30s in some areas. Everyone will be above freezing unless you go well north of Route 84.
REGIONAL RADAR

Look for the local radars to get busy during the evening commute tonight. The rain won't be anything that can't be handled. Surfaces are all warm and above freezing so no issues from that end at least.
LOCAL RADAR NEW YORK CITY
LOCAL RADAR PHILADELPHIA

The rain moves out and we are left with lots of clouds, an ocean wind, and temperatures in the 40s for Thursday. Light rain or drizzle is  possible but a steady rain is not likely. The warm front will struggle through here Thursday night and then we are met by a cold front Friday morning with a few scattered showers.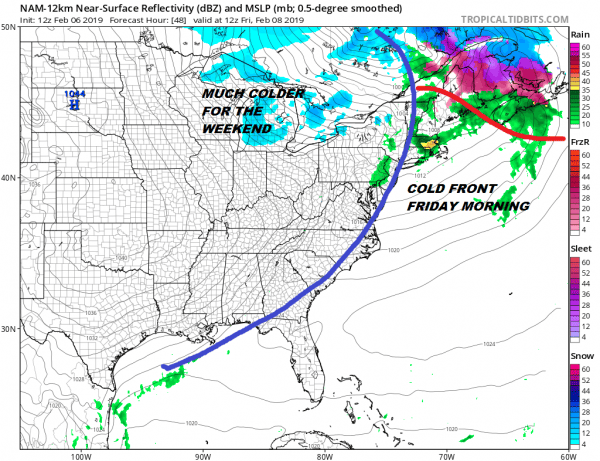 Afterwards we dry out and we will likely see highs reach 60 on Friday with some developing sunshine before the colder air takes hold and we head down into the 20s for Saturday morning. Highs Saturday will be just in the 30s and then down to the teens and lower 20s for Sunday morning.
FIRST SNOW CHANCE SUNDAY NIGHT INTO MONDAY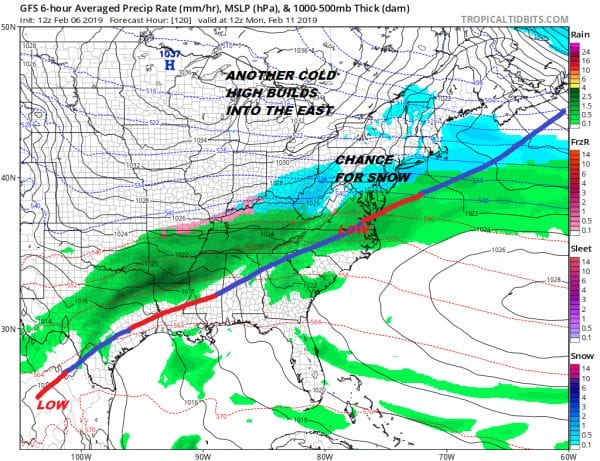 The next cold high pushes a weak system through Sunday night into Monday morning and there could be a period of snow Sunday night. A coating to an inch or snow would be the most likely outcome here. Then attention turns west as a trough shifts east of the Plains. There is still much uncertainty in how this plays out. The issue is whether the trough swinging out of the Plains undercuts the high to the north and slips out to the south of us which would mean a snow scenario. Or will it simply hook up with additional energy out to the west and take a deepening low to the Great Lakes (snow at the start briefly before it turns to rain).
Looking at the surface you can see the European holds on to that primary while the secondary low forms along the Virginia coast and then deepens rapidly as it goes by. Models are still in the time frame where they are throwing around all kinds of crazy solutions so we will continue to wait it out until the weekend regarding system number 2. This would be for later Tuesday into Wednesday.
All sorts of snow forecast maps are flying around out there which is a complete and utter waste of time to look at. I would warn snow weenies out there that the trend is your friend and if that is the case, I would bet against any bullish outcome here given how the winter has gone so far. The trough position is in the West and you are going to have to get all that energy to remain separate, unphased and just ride along eastward under the ridge in Southeastern Canada. Otherwise you can say goodbye to this snow chance.
MANY THANKS TO

TROPICAL TIDBITS

FOR THE USE OF MAPS
Please note that with regards to any tropical storms or hurricanes, should a storm be threatening, please consult your local National Weather Service office or your local government officials about what action you should be taking to protect life and property.