MODERATE RISK FOR RIP CURRENTS AGAIN TODAY FOR BOTH THE LONG ISLAND AND THE NEW JERSEY SHORE.
The persistant winds from the northeast and east have elevated the risk for rip currents. This is the third day of the northeast flow. Exercise extreme caution and swim only in the designated safer swimming areas.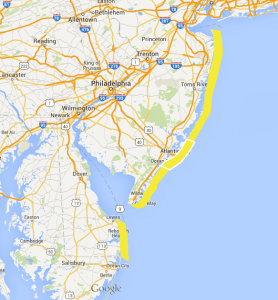 .TODAY…
SKY WEATHER……… MOSTLY SUNNY UNTIL 2 PM…THEN MOSTLY CLOUDY.
HIGH TEMPERATURE…. IN THE UPPER 70S.
BEACH WINDS……… SOUTHEAST WINDS 5 TO 10 MPH.
SURF……………. AROUND 3 FEET.
SWELL…………… EAST SWELL 2 TO 3 FEET.
DOMINANT PERIOD….. 7 SECONDS.
SURF TEMPERATURE…. 77 DEGREES.
UVI INDEX……….. 8 – VERY HIGH.
RIP CURRENT RISK…. MODERATE. A MODERATE RISK OF RIP CURRENTS
MEANS WIND AND OR WAVE CONDITIONS SUPPORT
STRONGER OR MORE FREQUENT RIP CURRENTS.
ALWAYS HAVE A FLOTATION DEVICE WITH YOU IN
THE WATER. SWIM ONLY IN LIFE GUARDED AREAS.
LIGHTNING THREAT…. LOW. IMPLIES THAT THERE IS LITTLE CHANCE OF
THUNDERSTORMS.
SMALL CRAFT ADVISORY IN EFFECT FOR THE COASTAL WATERS
Today
E winds around 5 kt…becoming SE late this morning and afternoon. Seas 3 to 5 ft.
Tonight
S winds 10 to 15 kt…increasing to 15 to 20 kt with gusts up to 25 kt after midnight. Seas around 3 ft…building to 4 to 5 ft after midnight. Showers likely after midnight.
Tue
S winds 15 to 20 kt with gusts up to 30 kt. Seas 5 to 6 ft. Showers in the morning…then showers and scattered tstms in the afternoon.
Tue Night
SW winds 15 to 20 kt…becoming W 10 to 15 kt after midnight. Seas 4 to 6 ft. Showers with a chance of tstms in the evening…then a chance of showers after midnight.