Slow Improvement Today Leads To A Nice Weekend
Tropical System To Pass Well South

Slow Improvement Today Leads To A Nice Weekend
Tropical System To Pass Well South

We are on our way to what should be a nice weekend but we have a little bit of clean up left to day from last night's cold front and the showers and thunderstorms that came with it. There are some leftover clouds around with a few leftover showers this morning showing up on the radar but they will be gone before long. Then we will see decreasing clouds and and increasing sun from northwest to southeast. Highs today will be in the upper 70s and lower 80s. Dry air will be coming in on northwest winds and we will cool off tonight. Skies will be mostly clear. Lows will be in the mid 50s to lower 60s on average with some cooler spots closer to 50 well inland.
SATELLITE

WEATHER RADAR

I don't see any major issues for the weather this weekend. In fact it appears that we will be nice and dry right through Monday with seasonal temperatures and reasonable humidity right through. High pressure will settle in the Mid Atlantic States and provide two functions. It will keep us dry and it will keep what could become a tropical storm later today from moving up the East Coast.
The upper flow is stretched out west to east across much of the United States and Southern Canada and this prevents anything from moving up the coast. In the meantime we have the next cold front not getting here until probably late Tuesday. Until then we have a lovely Saturday of sunshine with highs in the mid 70s to some lower 80s.
Sunday the only issue may be a few clouds coming in from the northwest as a warm front sets up well to our north It is no big deal and it just means that we will be mostly sunny to start and a partly sunny finish. It is a small difference and hardly worth noting. Highs Sunday will be in the 70s though the wind will be more from off the ocean than on Saturday.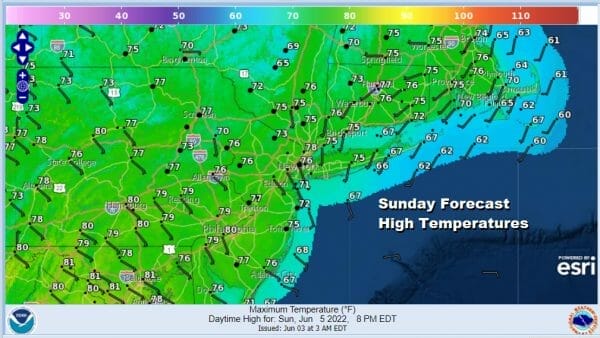 The off the ocean wind continues Monday with some sunshine and highs in the 70s. Tuesday should be dry for most of the day until a cold front gets close enough to produce showers and thunderstorms later in the day or in the evening. Highs will be back into the 80s. West to east action continues next week with another cold front and the chance for showers late Thursday. The pattern doesn't not favor hot weather returning anytime soon.
Please note that with regards to any severe weather,  tropical storms, or hurricanes, should a storm be threatening, please consult your local National Weather Service office or your local government officials about what action you should be taking to protect life and property.