Slow Improvement Later Today Chilly Into Weekend Showers Late Sunday

Weather in 5/Joe & Joe Weather Show Latest Podcast
Slow Improvement Later Today Chilly Into Weekend Showers Late Sunday
We are stilling dealing with cloud issues this morning. A cold front is offshore and cooler air has moved in but drier air remains to the west. It is waiting for low pressure off the North Carolina coast to move out to the northeast and take what is left of Tropical Storm Eta with it. Eta is gradually getting absorbed by the cold front and it morphs into a non tropical system. The bottom line is that clouds are going to be an issue today and there still could be some rain mainly from Northern New Jersey to Southern New England during the midday and afternoon hours. There should be some breaks in the cloud cover late today or this evening.
SATELLITE

REGIONAL RADAR

The solid rain from overnight is out to the east. Radars are still showing some rain echoes forming though much of that precipitation is light or it may not even be reaching the ground. However we could see a rain area grow from NYC north and east around midday until mid afternoon.
LOCAL RADAR NEW YORK CITY
LOCAL RADAR PHILADELPHIA

Skies should clear out tonight with most lows in the upper 30s to middle 40s. Saturday looks like the better of the two weekend days with plenty of sunshine but it will be on the chilly side and quite a change from the 70s we experienced this week. Highs will only be in the upper 40s and lower 50s.
The pattern has gone from where it changes very little from day to day to one where weather systems are moving along from west to east. A cold front approaches on Sunday and we will see arriving clouds and highs in the 50s. Showers are likely as the front moves through from west to east Sunday afternoon and evening. This is not a front that is going to stall but it keeps going as a strong storm develops in Eastern Canada.
The first half of next week sets up to be cold. Gusty winds will be the rule Monday into Wednesday with low pressure in Eastern Canada and higher pressures to the south creating a rather tight pressure gradient. We will see some lake effect snow action Monday and again on Tuesday as a second cold front and lower pressures move through. Monday look for a mix of sun and clouds. Highs will be in the upper 40s and lower 50s.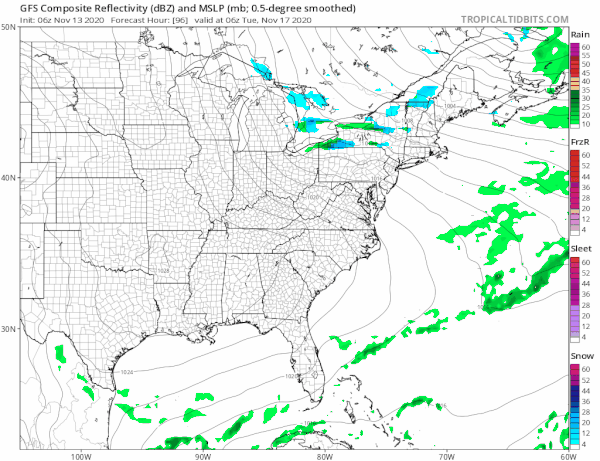 Tuesday will be cold. Highs will be just in the 40s with a mix of sun and clouds. There could be an afternoon rain or snow shower and gusty winds continue from the northwest 15 to 30 mph and higher in gusts. Wednesday will be probably the coldest day of this stretch with breezy conditions and some sunshine but highs just in the low to mid 40s. Finally Thursday the wind drops off and we have sun and arriving clouds with highs in the 40s. Low pressure heading across the Great Lakes and a warm front approaching will bring some rain here Friday. It is possible that it could be cold enough for a little snow ahead of the warm front but that is a topic of conversation for later in the weekend.
MANY THANKS TO TROPICAL TIDBITS FOR THE USE OF MAPS
Please note that with regards to any severe weather,  tropical storms, or hurricanes, should a storm be threatening, please consult your local National Weather Service office or your local government officials about what action you should be taking to protect life and property.