Slow Improvement Dry Weekend Gloom Doom Week Ahead
We are getting our weekend under way as a cold front continues to sink southward and high pressure starts to build in from the north. The cloud line on the satellite picture rund across New Jersey and Eastern Pennsylvania southward into Delaware and Maryland. There are some breaks in that cloud cover but gradually as the front continues to push its way southward sunshine will take control from north to south. Temperatures today should be able to climb up into the 70s away from the ocean and no rain is forecast.
In fact we may be dry through Sunday as we wait for the next round of weather changes. It will involve a deep trough diving into the Eastern US, an onshore flow, and indirectly a subtropical system off the Florida East Coast. For now Sunday will feature clouds and some sun mixed with highs in the upper 60s to middle 70s.
SATELLITE

REGIONAL RADAR

Let us now turn our attention to the low that is developing off the Florida East Coast. Latest satellite pictures show that the system has become better organized overnight and while there is a low level circulation that has developed, it is still rather broad in nature. However we think this system will become a subtropical depression or a subtropical storm later today as in moves slowly northeastward. Most of the rain with this is offshore though some rain continues in parts of Southeast Florida.
POTENTIAL SUBTROPICAL SYSTEM SATELLITE
All the Hurricane tracking models (except for one) take the low to just east of the North Carolina coast and then eject it to the east northeast. This seems to be the most likely outcome given the developments that will be occurring in the upper air in the Eastern US.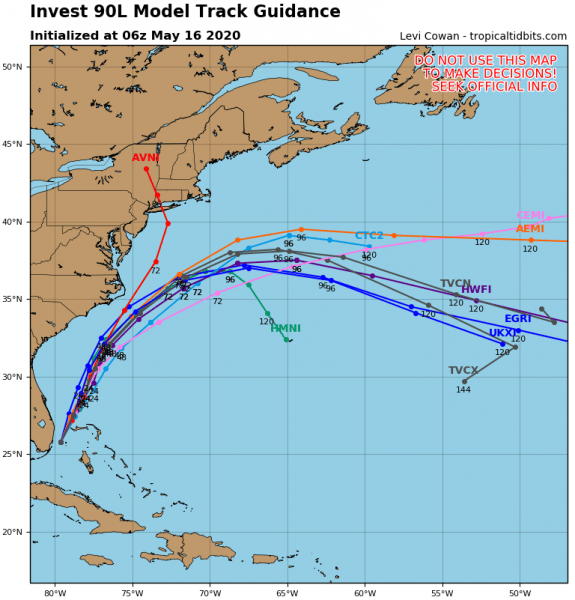 The subtropical low is going to attempt to find a path of least resistance here. A strong upper low is going to dive southeastward from the Great Lakes to the Tennessee Valley. That upper low can do one of two things. Either it kicks the subtropical system out to the northeast and offshore.
The other option is that it starts to capture it and bring it up the coast gradually absorbing the tropical system into a developing non tropical system forecast to develop in the Carolinas early next week. This option would create the worst case outcome with wind rain and coastal flooding developing Tuesday and lasting into Wednesday.
The offshore track option creates an opportunity for high pressure in Eastern Canada to build southward and shift any rain either offshore to the east or keep it well to the west and south of us. This would likely leave us in a situation where we would have lots of cloud issues and a rather raw onshore flow but not much in the way of rain. For now lets call Monday as a day of cloudy skies with highs in the 60s and the chance for a few passing showers mainly north in New England. Highs will be in the 60s. Monday night into Tuesday night probably sets up as the best  chance for any steady rain with highs Tuesday just in the 50s. The remnant upper low will keep us in clouds and the chance for showers Wednesday and Thursday. If it can start to move northeastward Friday it could get out in time for the Memorial Day holiday weekend which should be dry and it should also turn warmer.
MANY THANKS TO TROPICAL TIDBITS FOR THE USE OF MAPS
Please note that with regards to any severe weather,  tropical storms, or hurricanes, should a storm be threatening, please consult your local National Weather Service office or your local government officials about what action you should be taking to protect life and property.