Skiing & Cold? Warm Air Floods Canada Per JOESTRADAMUS!
Ski resorts and cold air lovers are not liking this. It is amazing how short lived these shots of cold air are. They last a day or 2 at most and then the ridge and the Pacific flow just swing right back into action and just dominate the pattern in a big way across North America. Today's GFS weather forecast model for Monday morning shows you how cold air gets into the east which is then followed by the upper air map for Wednesday morning which shows how fast that cold air pulls out.
The split flow polar jet stream shown above quickly pulls up to the north as the system in the southern stream moves northeast. The ridges build on both coasts with the one in the Pacific getting boosted by the big vortex over the Aleutians. In comes rain for Tuesday into Wednesday. Once this system gets out of the way, it only gets worse for cold weather and snow lovers.
This set up shows how you basically turn Canada into a warm weather resort (relatively speaking). Vortexes in the Aleutians (wrong spot) and south of Greenland (equally wrong spot) allow what is basically 1 huge ridge to build across the United States with warm air in Canada from coast to coast. This is the upper air map for next weekend! Other than the system in the Southern Plains which is moving underneath the split, this is as bad as it can get with winter non existent anywhere in North America.
Now I want to point out a couple of things. Firstly last year we saw a similar set up for December which eventually wound up a little closer to normal  as we adventured through the second half of the month so this look is odd but not something that never happens. The second thing is that at some point we are approaching a place where the pattern will basically exhaust itself. Now as is so typical of the GFS we have hints of change beyond day 10 and as usual we will have to take the "believe it when I see it approach until we see a breakdown of what is going on in the northern latitudes.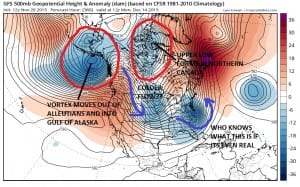 Now this is what the GFS looks like on today run at day 15. Now I'm putting this up not because I have any confidence in this being right (because I don't) but rather to illustrate what needs to happen in the northern latitudes. First off, the Aleutian low moves into the Gulf of Alaska..and it needs to stay there. This forces a ridge in Western Canada which opens the flow to colder air to move into the United States. We also have the appearance of a vortex in Northern Canada to act as a sort of an anchor to hold things together. Top that off with ridging and blocking in Greenland (gee when have we seen this before?). Skepticism is strong here folks. I've been around this game long enough to know that 1 run does not a trend make. I've also been around to know that no pattern lasts forever and something eventually has to give, though it doesn't always mean it changes to something you like.
With regards to the pattern indexes this is the mess we are in. Positive PNA (Pacific North America Pattern) which should favor cold but it is being trumped by the positive EPO (East Pacific Oscillation) though the EPO is forecast to trend downward mid month. The NAO is strongly positive which is forecast to go toward neutral by mid month. The PNA is forecast to go slightly negative mid month. These are not the best of signals for cold at the end of the period but not the worst assuming they are right.
This is my morning video analysis of the overnight weather models in the long range.
MORE WEATHER INFORMATION FROM MY LATEST POSTS
NORTHEAST SKI RESORTS WILL HAVE LITTLE SNOW TO SKI ON FOR THE NEXT 10 DAYS
VIDEO ANALYSIS ON WHY THE COLD AIR IS TRAPPED. VIEW OF NORTH AMERICA TEMPERATURES
WARMEST NOVEMBER ON RECORD AND WHAT IT MEANS (OR DOESN'T MEAN)
DO WARM NOVEMBERS MEAN SNOWLESS WINTERS?
JOESTRADAMUS WINTER FORECAST 2015-2016
DO YOUR HOLIDAY SHOPPING ON MY WEBSITE AND AVOID MALLS AND TRAFFIC